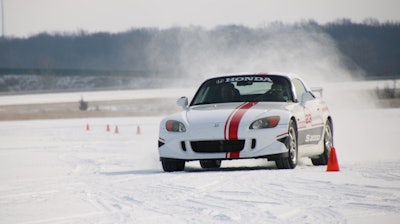 Transportation Research Center is North America
CLEVELAND (AP) — The country's biggest automotive testing facility outside Columbus will receive a $45 million grant to expand as the state furthers its efforts to become a national leader in advancing autonomous vehicle research and smart road technology, Gov. John Kasich and other officials announced Thursday at Ohio State University in Columbus.
The state, OSU and JobsOhio are providing the grant for the Transportation Research Center in East Liberty, a testing facility about 45 miles northwest of Columbus. The university is contributing $25 million, the state $12.5 million and JobsOhio $7.5 million. Some of the state's share will be included in Kasich's biennial budget proposal to be submitted on Monday.
"We are the best testing facility in America," Kasich said of the research center during a news conference to announce the grant award. "I want to be the best in the world. This is a huge investment."
A private company last year conducted tests of driverless trucks on the Ohio Turnpike and along U.S. Route 33 between Columbus and the Transportation Research Center. The state has begun installing fiber-optic cables and sensors to make a 35-mile stretch of that four-lane divided highway a "smart mobility corridor" that will allow cars equipped with wireless technology to share information with each other about road and weather conditions, hazards and accidents.
Ohio Department of Transportation officials said automakers have begun equipping high-end vehicles with the technology and that there are plans to install the units on ODOT snow plows and dump trucks.
Ohio recently joined a "Smart Belt Coalition" with state transportation agencies in Michigan and Pennsylvania to advance research on autonomous vehicles and connected vehicle technology.
State officials also announced there are plans to install smart road technology on a section of Interstate 270, which surrounds Columbus, and around 55 miles of Interstate 90 between suburban Cleveland east to the border with Pennsylvania.
ODOT spokesman Matt Bruning said in an interview Thursday that Ohio is an ideal location for companies to test autonomous vehicles and other cutting-edge automotive technology because of its seasonal weather and types of roadways.
"Ohio can offer a variety of everything," Bruning said.