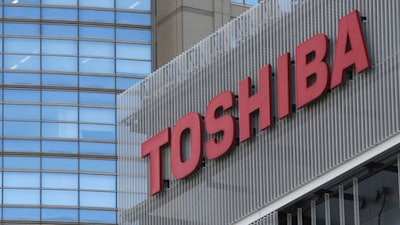 AP Photo/Koji Sasahara
TOKYO (AP) — Toshiba Corp. says it will split its lucrative flash memory business to make up for losses from its troubled U.S. nuclear business, and is looking for a third-party capital injection.
The company said its board approved the plan Friday to sell an unspecified stake in its chip operation to make up for losses from its nuclear operations in the U.S.
Tokyo-based Toshiba is one of the major Japanese industrial conglomerates whose nuclear sectors have struggled since the 2011 Fukushima disaster. Last year it also said it could book an impairment loss of "several billion dollars" in its U.S. nuclear business.
The Kyodo News service quoted unnamed sources as saying Toshiba will sell less than a 20 percent stake in its highly profitable chip business to ensure its net worth remains positive.
"We will do whatever it takes, including increasing capital," Toshiba Chief Executive Satoshi Tsunakawa told reporters. "I really feel responsible," he said.
Last month, Toshiba said costs for completing Westinghouse Electric Co.'s purchase of the U.S. company CB&I Stone & Webster, Inc. will "far surpass" original estimates. Tokyo-based Toshiba also is enmeshed in a scandal over disclosures that company officials doctored accounting books for years after setting unrealistic earnings targets.
In March 2016, the company sold its medical unit to Japanese camera maker Canon Inc. for 665.5 billion yen ($5.9 billion) on Thursday. It also has spun off its refrigerator and other "white goods" business, selling it to Chinese home appliance manufacturer Midea Group.