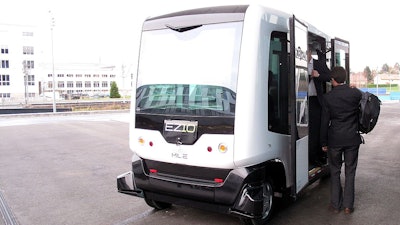 Wikimedia Commons
PARIS (AP) — In a city hit by chronic pollution and traffic problems, Paris officials are experimenting with a self-driving shuttle linking two train stations in the French capital.
Two electric-power EZ10 minibuses, which can carry up to six seated passengers, were put into service Monday and will be tested until early April between the Lyon and Austerlitz stations in Paris. The GPS-guided vehicle is free and will be running seven days a week.
Jean-Louis Missika, a Paris deputy mayor in charge of innovation, said self-driving vehicles "will change the urban landscape in a spectacular fashion" within the next 20 years.
Conceived by the French company Easymile, the EZ10 has already been tested in several countries, including the United States. It will also be tested between two main green spaces in southern Paris.