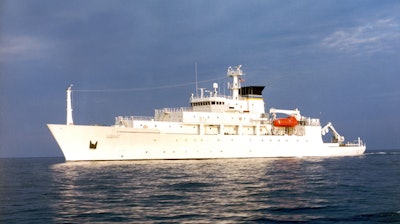 CHINFO, Navy Visual News via AP, File
BEIJING (AP) — China has handed back to the United States an underwater drone it had seized last week in an incident that raised tensions in a relationship that has been tested by President-elect Donald Trump's signals of a tougher policy toward Beijing.
Trump has riled the Chinese leadership by saying he might reconsider U.S. policy toward Taiwan, the self-ruled island the mainland claims as its territory.
The Chinese navy vessel that seized the drone returned it near where it was seized, and it was received by the USS Mustin about 80 kilometers (50 miles) northwest of Subic Bay in the Philippines, Pentagon press secretary Peter Cook said in a statement. Cook said Washington considered the seizure illegal.
"This incident was inconsistent with both international law and standards of professionalism for conduct between navies at sea," he said, adding that the U.S. has called on China to refrain from "further efforts to impede lawful U.S. activities."
The statement said the U.S. would continue to "fly, sail, and operate in the South China Sea wherever international law allows." Such freedom of navigation missions in which U.S. ships sail near China's artificial islands draw warnings and rebukes from Beijing.
A spokeswoman of China's Foreign Ministry said there was no basis for the Pentagon's assertion that the seizure was unlawful, though she didn't fully explain the position, instead linking it to the U.S.'s military presence in the waters, which Beijing considers provocative.
"We have been pointing out that over a long time, the U.S. has been sending aircraft and vessels to conduct close-in reconnaissance and military surveys in waters facing China, which poses threats to China's sovereignty and security," said Hua Chunying, the spokeswoman.
"That is the root cause of the incident," she said, while calling for the U.S. to stop such activities.
China's defense ministry said in a statement that it handed the drone back after "friendly consultations."
Chinese officials say the drone was removed from the water to ensure the safety of passing ships, but domestic political experts have read the move as a warning to Trump not to test Beijing's resolve over Taiwan.
Early this month, Trump broke protocol by speaking with Taiwanese President Tsai Ing-wen. He later said he did not feel "bound by a one-China policy" unless the U.S. could gain trade or other benefits from China. Beijing regards any acknowledgement that Taiwan has its own head of state as a grave insult.
"China wants to send a message to the U.S. side about how serious the consequences can be if sensitive issues in China-U.S. relations are handled unilaterally and indiscreetly," said Xiong Zhiyong, an international relations expert at the China Foreign Affairs University in Beijing. "The return of the seized drone shows that China hopes the U.S. will not provoke China on these issues and engage in solving issues through consultation."
The incident underscores how Trump will confront as president an increasingly assertive China that wants to extend its reach in the South China Sea, a strategically vital area through which about $5 trillion in global trade passes each year. Several of China's smaller neighbors have protested China's territorial claims there and are closely watching Trump's handling of the disputed sea.
The seizure of the drone fits into China's broader strategy aimed at shaping the perception that it is in control of the South China Sea and will not back down, said Michael Raska, a military analyst at the S. Rajaratnam School of International Studies in Singapore.
"They use the South China Sea as political, economic and informational means to project power and to influence domestic and external perception that the South China Sea is basically Chinese," Raska said. "This puts the U.S. and China into contending trajectories, but neither side has the strategic interest to escalate beyond these low-level incidents."
The U.S. said the drone was being operated by civilian contractors collecting unclassified scientific data in international waters. A noncombat ship was recovering two drones last Thursday when a Chinese ship approached, launched a small boat and picked up one of them, officials say.
Trump, still a month away from being inaugurated, accused Chinese authorities on Saturday of stealing the drone, and said on Twitter, "We should tell China that we don't want the drone they stole back.- let them keep it!"
Trump has pledged to be more unpredictable on the world stage, billing the approach as a much-needed change from President Barack Obama's deliberative style and public forecasting about U.S. policy.
That is likely to unnerve both allies and adversaries, leaving glaring questions about whether the foreign policy novice is carrying out planned strategies or acting on impulse.
___
Associated Press writer Lolita C. Baldor in Washington and news researcher Yu Bing in Beijing contributed to this report.