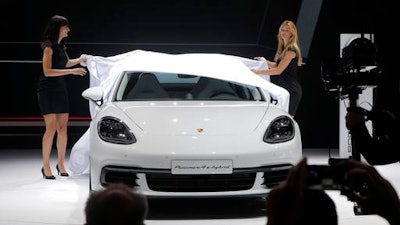 AP Photo/Michel Euler
PARIS (AP) — An obscenely powerful hybrid sports car, a family-friendly SUV with enough space for seven adults, and an electric vehicle that promises to keep going for over 300 miles (500 kilometers) on a single charge — those are some of the notable vehicles shining on the display stands under bright overhead lights at the Paris auto show (see photos in gallery).
Executives at this year's show are talking about how the industry can adapt to — or, better yet, profit from — disruptive change such as electric engines, networked vehicles, car sharing, and autonomous driving. All that could start coming together between 2020 and 2025, some think.
Right now, however, they have some cars they want to sell.
Here are five of the vehicles getting the most attention at the Paris Mondial de L'Automobile, which opens to the public Saturday and runs through Oct. 16. If you are lucky enough to be in the City of Light, an adult ticket costs 16 euros ($17.90).
LaFerrari Aperta
This limited edition of the Ferrari's LaFerrari supercar offers the pleasures of open-top driving in a car that performs pretty much like a Formula One racer. It's a hybrid, meaning its electric motor assists the monster 12-cylinder internal combustion engine to add even more powerful acceleration.
The car does 0-100 kph (0-62 mph) in less than three seconds, and offers a top speed of 350 kph (217 mph). With the top off, aerodynamic design channels away the airflow so that the two occupants can conduct a conversation even at high speeds. That's if they're not relishing the finely tuned roar of the engine, or its "soundtrack," as the company puts it, promising "full, harmonious sound that's more intoxicating than ever."
All 200 are already sold at prices of 1.8-2.0 million euros ($2.0-$2.2 million).
Porsche Panamera 4 E-Hybrid
It's a comfortable four-door sedan. No, it's a high-performance sports car. If it's the Panamera, it's both. The all-wheel drive car draws on the technology used in the company's 918 Spyder supercar so that the electric motor continually adds power; the car accelerates to 100 kph (62 kph) in just 4.6 seconds and reaches a top speed of 270 kph (168 mph).
It can go up to 50 kilometers (31 miles) on just the battery — making the vehicle a little quieter than, say, the company's 911 sports car — and emits a relatively low 56 grams per kilometer of carbon dioxide, a greenhouse gas blamed by scientists for global warming. The vehicle goes on sale in November. The price in France is 110,222 euros ($123,680).
Jaguar Land Rover Discovery
The first complete redesign of the Discovery in 12 years, this family oriented large SUV has room for seven adults in three rows. The seats can be rearranged remotely through a smartphone app even when the operator is outside the vehicle, and the second and third rows can fold flat in 14 seconds.
The suspension automatically lowers the car 4 centimeters (1.5 inches) to make it easier to get in and out. There are six charging points, places to store iPads, 9 USB ports, and a 4G WiFi hotspot that can handle up to eight devices. There's no shortage of power for towing, with three diesel variants of 180, 240 and 258 horsepower and a 340 horsepower gasoline engine.
Prices start at 50,900 euros and head north to 74,300 euros.
Opel Ampera-E
This is the European version of the Chevrolet Bolt five-door hatchback going on sale this year in the United States and early next year in Europe. It has attracted attention by getting a range rating of 238 miles (383 kilometers) under the U.S. standard on a full charge; the company promises a 310-mile (500 kilometer) range as measured by the European standard. It claims drivers can add 150 kilometers (93 miles) in 30 minutes of charging.
Those distances may not be equaled in everyday driving, with the European test standard, for example assumptions relatively gentle acceleration. Many obstacles remain before all-electric vehicles reach widespread acceptance. Will this car be a significant jump toward making electrics seem more practical to price-conscious regular car buyers? As always, the market will provide the answer. The U.S. manufacturer's suggested retail price is $37,495, which doesn't count the tax break of up to $7,500.
BMW X2
BMW showed off a potential new addition to its X-series of SUVs and crossovers, this one offering a sportier take with a flat roofline and big air intakes giving the grill a wider, more aggressive look.
The company calls it a "sport-activity coupe," referring to its lower roofline — more like the sloping shape of a coupe than a boxier SUV. BMW tweaked the trademark kidney shaped twin grilles, flipping them upside down so that they narrow from bottom up. The look is enhanced with a different slant to the windshield and lower stance.
"The BMW X2 is really tapping into a new market, the sort-of coupe style SUV. It is showing that SUVs are not just about being practical, they can be fun and they can be sporty as well," says Jim Holder, editorial director of Autocar, automotive magazine. It's still a concept car, meaning no date for it to go on sale or price information.