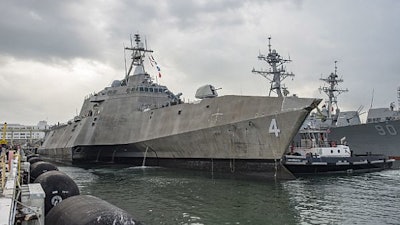 U.S. Navy photo by Mass Communication Specialist 2nd Class Katarzyna Kobiljak/Released
NEWPORT, R.I. (AP) — Five of seven of the U.S. Navy's speedy new warships have had engine problems in the past year and four of them are now considered "test" ships that'll rarely, if ever, be deployed.
The Navy insists the costly littoral combat ship program is going to be fine after a bumpy start.
Adm. John Richardson, the chief of naval operations, said recently in Newport, Rhode Island, that most major shipbuilding programs have "startup types of issues."
"They're very complex programs and so I think, overall, this program is on track and we are seeing that we're learning lessons as it starts up," he said.
But two senior senators, Arizona Republican John McCain and Rhode Island Democrat Jack Reed, say it's time for the Navy to question all of its assumptions about the littoral combat ship program, which has been criticized for its growing costs, questions about the warships' warfighting ability and now, the ships' mechanical reliability.
They said acquisition mistakes and the ship's complexity have led to problems now.
Earlier this month, the newest littoral combat ship, the USS Montgomery, suffered two major engineering problems just three days after its commissioning that will require potentially costly changes to other ships, and most of the replaceable mission modules for the ships are years delayed, said McCain, chairman of the Senate Armed Services Committee.
The program has "new problems," McCain said in a statement, "but it is not a new program." He said that's why he and Reed are calling on the Navy to reconcile their aspirations with reality.
Two versions of the littoral combat ship were sped into production because the Navy wanted an affordable, fast ship to operate in shallow coastal, or littoral, waters.
Lockheed Martin is building the Freedom-variant in Marinette, Wisconsin. Austal USA is building the Independence-variant in Mobile, Alabama.
The Navy originally spoke of building the ships for about $220 million each in constant fiscal 2005 dollars but the costs for the first few subsequently more than doubled, according to the Congressional Research Service.
The cost for subsequent ships then came down under the current block buy contracts to roughly $380 million in fiscal 2005 dollars, or about $450 million each in current dollars, the research service said.
McCain and Reed, ranking member on the Senate Armed Services Committee, want the Navy to consider deploying the ships less often, establishing a site on land for engineering and technical support and reviewing the number of sailors assigned to each ship.
The Navy is overhauling how it operates the ships, to change how crews will be assigned and how the ships will deploy. The first four ships will be used for testing developing technologies and systems being installed on the littoral combat ships.
Richardson said the Navy is learning engineering, technological and training lessons that will be rolled forward to improve future ships and the preparedness of crews to operate them.
"These ships are going to last for decades, in the ideal, so we're going to be pushing forward into the future and there's always going to be a little bit of a technical risk," Richardson said.
The ships were built to be equipped with swappable mission modules, in contrast to larger, multi-mission ships. Three crews would share two ships so one of the ships could be deployed at any given time.
The Navy said this month that deploying ships will now have two crews that rotate with the same ship, to simplify things and instill a sense of ownership. Ships will typically focus on a single mission instead of swapping modules.
Some ships will have single crews to focus solely on training or testing. These changes are expected to be implemented over the next five years.
The 28 ships will be based in Mayport, Florida and San Diego.