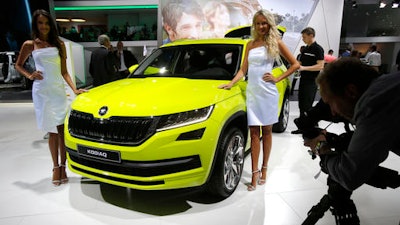 AP Photo/Michel Euler
PARIS (AP) — Global automakers are showing off new electric vehicles (view photos in gallery) at the Paris auto show as they look ahead to a world of tighter environmental standards and brace for rapid changes in technology.
Volkswagen, trying to recover from revelations some of its diesel cars pollute far more than is allowed, displayed the I.D, a battery-powered compact it says will sell for about what a fully equipped Golf diesel does when a production version eventually goes on the market in 2020.
Daimler AG's Mercedes-Benz luxury brand unveiled a new battery-powered SUV dubbed the EQ, a concept vehicle that gives an idea of what future offerings might look like.
CEO Dieter Zetsche, dressed in faded jeans and sneakers more reminiscent of Silicon Valley executives than the more formal auto industry, said the company aimed to bring out 10 fully electric vehicles by 2025. It wants to have electrics make up 15-25 percent of global sales by then — depending, he added, on the "continued development of infrastructure and customer preferences."
The outlook for electrics remains uncertain, heavily dependent on advances in battery technology and the availability of places to charge up. Executives stressed that internal combustion engines weren't going anywhere, including diesel. That technology has been under pressure in the wake of Volkswagen's scandal over cars it rigged to chat on emissions tests.
"Without any doubt, we are going to continue to develop diesels," particularly for SUVs and higher priced cars, Renault-Nissan CEO Carlos Ghosn told The Associated Press.
In fact, the first thing one saw on entering the Volkswagen pavilion was a sleek, sky blue diesel-powered Porsche Panamera high-performance sedan. Porsche, one of Volkswagen's brands, was also showing off a hybrid version of the Panamera. Sports car makers like the powerful acceleration that can be had from electric motors.
Still, most people looking for modestly priced cars don't buy electrics because they're more expensive than the same car with a gasoline or diesel engine, and driving range is still limited, as is the number of places to recharge away from home. Diesel requires emissions controls to limit soot and harmful nitrogen oxides but is cheaper to operate and remains very popular in Europe.
Automakers want to make sure they are ready in case improving technology makes electric sales take off. Electrics are often linked with ideas for autonomous driving and car-sharing as well.
For now, automakers need electrics to help them meet tougher requirements for fleet average emissions and mileage. The European Union is lowering average limits on CO2, blamed by scientists for global warming, by 2021. The United States will require 54.5 miles per gallon average mileage by 2025. Electrics, which emit nothing and burn no fossil fuel, count heavily in calculating the averages.
And low- or zero-emissions vehicles are especially in focus after Volkswagen's scandal. The company has apologized and agreed on a $15 billion civil settlement with U.S. environmental authorities, state governments and consumers.
Other important vehicles at the show included a new Peugeot 5008, which is morphing from a family van into an SUV-like crossover — a much hotter category in terms of sales. At the high end, Ferrari showed off its low-slung, open-top LaFerrari Aperta. The limited edition of 200 vehicles is already sold out, at prices of 1.8-2.0 million euros ($2.0-$2.2 billion).
The show in Paris took place under particularly tight security, with guards performing added bag checks at pavilion entrances following terrorist attacks in Paris in November and in Nice, France in May.