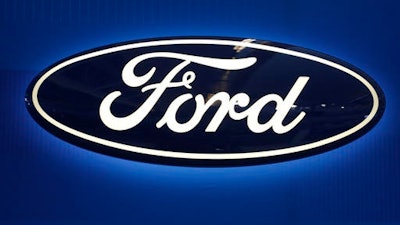 AP Photo/Gene J. Puskar, File
DETROIT (AP) — A pesky and growing recall of vehicles with door latches that can pop open while being driven will be so costly that Ford Motor Co. is reducing its estimate of pretax profits for the full year.
The automaker, under pressure from the U.S. National Highway Traffic Safety Administration, announced Thursday that it was adding about 1.5 million cars, SUVs and vans to the recall, bringing the North America total of recalled vehicles this year to nearly 2.4 million.
The door latch trouble has dogged Ford since 2014 and has affected much of its North American model lineup. At least 3 million vehicles have been recalled due to the problem. The recalls come after a 2015 NHTSA investigation found 1,200 customer complaints about doors failing to latch.
Thursday's expansion and an earlier recall announced on Aug. 4 will cost the company about $640 million that will go against third-quarter pretax profits, Ford said in a regulatory filing. That caused the Dearborn, Michigan, automaker to reduce its full-year pretax profit estimate to $10.2 billion. That's lower than its most recent guidance of $10.8 billion or more.
The latest recall includes the 2012 through 2015 Ford Focus, the 2013 to 2015 Ford Escape and C-Max, the 2015 Ford Mustang and Lincoln MKC and the 2014 through 2016 Ford Transit Connect small van.
Ford says a spring tab in the door latches can break, and the doors either won't close or could pop open. Dealers will replace the latches for free. The company said it knows of one crash and three injuries that may be related to the problem.
The Aug. 4 recall was similar to Thursday's, but it was limited to Mexico and 16 states with high temperatures and sunlight exposure. Thursday's move expands the recall nationwide in the U.S. to include just over 2 million vehicles.
The additional recalls come after NHTSA opened an investigation into the problem
Ford says customers who want to know if their vehicle is included in the recall can go to www.ford.com , click on safety recalls and enter their vehicle identification number. That number can be found on most state registration cards and is attached to the dashboard near the driver's side windshield.