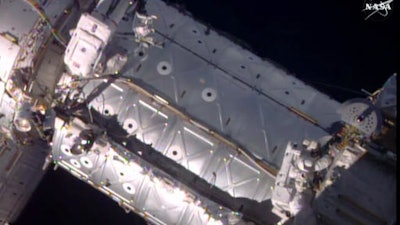 NASA via AP
CAPE CANAVERAL, Fla. (AP) — Spacewalking astronauts installed a new door for visitors at the International Space Station on Friday, the crucial first step in welcoming commercial crew capsules as soon as next year.
The two Americans, Jeffrey Williams and Kate Rubins, hooked up the docking port in just a few hours. SpaceX delivered this new gateway last month, packed in the trunk of a Dragon cargo capsule.
Americans haven't rocketed into orbit from their home turf since NASA's last shuttle flight in 2011. SpaceX and Boeing expect to resume human launches from Cape Canaveral in another year or two. But their crew capsules can't dock without this new-style parking spot, which replaces the now obsolete shuttle setup and is meant to be internationally compatible.
Friday's success paved the way for these future spaceships.
"We have a new port of call for the new U.S. commercial crew vehicles," announced Mission Control commentator Rob Navias.
SpaceX is shooting for a test flight of its souped-up Dragon with two astronauts as early as a year from now. Boeing is aiming for a two-person shakedown of its Starliner capsule in early 2018. Until then, Russia will keep providing all the rides — at a hefty price for U.S. taxpayers.
NASA started using private U.S. companies to carry out cargo shipments a few years back. Commercial crew launches will be an even bigger step. This commercial handoff is freeing up NASA to focus on true outer-space exploration; the space agency is working to get astronauts to Mars in the 2030s.
This is actually NASA's second new docking ring. The first was destroyed in a SpaceX launch accident last summer. NASA ultimately wants two of these 3 1/2-foot-by-5-foot ports at the lab. Another one — cobbled together from spare parts — should fly up in about a year.
Flight controllers in Houston set the spacewalking stage earlier in the week, using a robot arm to move the docking port to within a few feet of its intended lock-down position — the very spot where Atlantis undocked on July 19, 2011, to close out the shuttle era. An hour into Friday's spacewalk, the mechanical arm let go, and Williams and Rubins took over, connecting a slew of hooks and cables. Soon, all 12 hooks were driven into place, firmly securing the port as the 250-mile-high complex soared over the Indian Ocean.
The space station is currently home to two Americans, one Japanese and three Russians. Up there for five months, Williams and two of the Russians will return to Earth in a couple weeks. Williams will conduct one more spacewalk with Rubins on Sept. 1 to retract a radiator.
Williams, a veteran spacewalker, was the first one through the hatch Friday morning. "Come on out," he urged Rubins. "The view is phenomenal," Rubins marveled before getting straight to work.
Rubins is only the 11th American woman to conduct a spacewalk and the 12th in the world. The first professional virus-hunter in space, she has been experimenting with a DNA decoder also delivered last month.
SpaceX's crew Dragon ship will fly on the company's own Falcon rocket from a former shuttle launch pad at Kennedy Space Center and, at mission's end, splash down off the Florida coast. Boeing's Starliner, meanwhile, will launch aboard the United Launch Alliance's trusty Atlas V rocket and parachute down somewhere in the American Southwest, possibly New Mexico. These test flights — intended to go all the way to the space station and dock — will last about two weeks. NASA will provide most if not all of the initial test pilots.