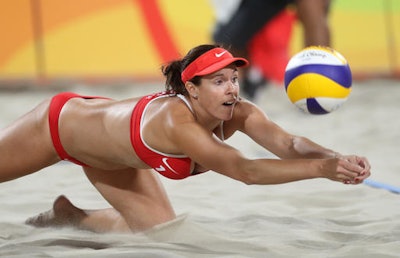 AP Photo/Petr David Josek, File
NEW YORK (AP) — If you want to glimpse the future of sports broadcasting, you can check out the Rio Olympics in virtual reality. But if you really want to immerse yourself in the competition, just turn on the TV.
NBC, BBC and other Olympic networks around the world are offering the opening and closing ceremonies and selected events in VR, giving viewers a 360-degree perspective — that is, the ability to look up, down and all around — when they wear special headsets. It's a first in Olympics broadcasting, and NBC itself admits that its more than 100 hours of VR coverage is experimental.
It's good that television networks are getting a head start on figuring out what works with the new technology. Watching the Olympics in VR can occasionally transport you, giving you the sense of actually being there in Rio. But those moments are still too few and far between.
The Basics
Television networks are relying on the shared resources of the Olympic Broadcasting Services. In the U.S.,viewers need a cable or satellite TV subscription, a Samsung Gear VR headset and a recent flagship Samsung Galaxy phone.
The VR schedule has a haphazard feel. It offers preliminary rounds for some sports and finals for others, but focuses on just one sport on any given day. Events are shown a day after the fact, too, apart from one fencing event and two days of men's basketball expected to be live.
The Opening Ceremony
Friends who hadn't tried VR before were impressed by the opening ceremony, though the spectacle was less momentous if you'd seen enough of VR for its newness to wear off. A few scenes still stood out:
At one point, performers clad in feather-like costumes sashayed and shimmied around me as they introduced the world to Brazil's music and dance. Producers had set up a 360-degree camera right next to them on stage, giving the VR audience the sense of being in the show instead of just watching it. Alas, producers then switched to more-distant cameras.
VR cameras captured the parade of athletes from at least two vantage points on the floor, giving me the sense of standing near them as they passed by. TV shots, by contrast, were mostly bird's eye views. I even caught one of the stadium marshals next to me — I mean the camera — snapping a photo with a smartphone.
While television mostly had aerial shots looking down at fireworks, VR offered a perspective from inside as fireworks shot up from around the entire stadium.
But VR doesn't do everything well, as I learned myself while recording 360-degree videos .
With no zoom, shots from the stadium's seats felt distant. Television showed close-ups of supermodel Gisele Bundchen's runway walk to "The Girl From Ipanema," but in VR all you could see was a dark, empty stadium floor. She was just too far away.
VR tried to compensate by showing a TV feed within the VR environment, but the virtual monitor got distracting. And when I looked down, all I could see was a computer-generated disk intended to hide the camera rig. It felt like standing on a giant dinner plate — there as an observer, but not really there.
Competition
There are currently no commercials or commentators intruding on the VR Olympics; all you get is natural sound from the venue. On the other hand, there's no way to jump directly to a specific match or athlete.
Among other drawbacks, athletes sometimes looked like video-game characters. VR video wasn't as sharp as what I'm used to on TV, and 3-D rendering might have compounded that feeling of fakeness.
In beach volleyball, one challenged play got shown repeatedly on television, but VR offered no instant replays or slow motion.
With boxing, coverage switched back and forth between a floor-level camera and one about the height of a street lamp. That forced me to continually tilt my head to look up and down again as though nodding. Let the viewer choose the camera.
For men's gymnastics, four cameras covered the six-event all-around finals, meaning you had to turn around to watch two of the events in the distance. Once again, you don't get to control the shot. You might be fixated on the pommel horse when you suddenly get a floor-exercise routine going on at the same time. Track-and-field coverage this weekend will probably have similar issues.
For now, VR is most exciting behind the scenes. I could feel the joy as Japanese gymnast Kohei Uchimura won gold and hugged his support staff, surrounded by cameras. You don't get that sense of closeness when it's a straight-on television shot. I would love to see warmup areas and locker rooms in VR (for team strategizing, of course). VR works best when the room is small and people are close to the camera.
Looking Ahead
It's easy to take television sports coverage for granted. Before satellites, TV rarely covered sports live, and cameras were rudimentary. Now, underwater cameras can capture swimmers' intensity in the pool, while a computer-generated yellow line shows the world-record pace. Elsewhere, skiers and ice-hockey players have strapped on GoPros. No doubt VR cameras and production will get better.
Jim Bell, executive producer of NBC Olympics, said it well just before the Olympics started: "It seems like a cool thing, but where it stands right now with the goggles and you've got to put this thing on your head, it's not there yet. I kind of like the experience of watching big events like the Olympics on a high-quality television screen, which as we like to say, is as God intended it."