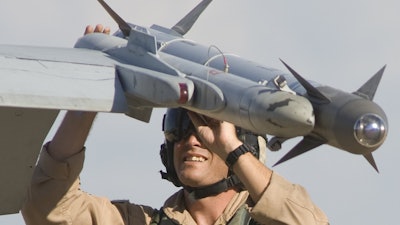 Raytheon
The U.S. Air Force, U.S. Navy and Raytheon successfully test-fired three AIM-9X Block I missiles from an F-35A aircraft at airborne targets, resulting in direct hits.
The weapon is the first short-range, air-to-air missile to be used on the F-35.
"These tests validated the on-board communications and handoffs between the aircraft and the missile required to prosecute an aerial target," said Mark Justus, AIM-9X program director for Raytheon Missile Systems. "AIM-9X will help ensure our pilots and allies have the most reliable and effective weapons on the F-35. We look forward to the remaining flight test and integration work, leading to fielding of the AIM-9X on the most advanced fighter aircraft."
The series of guided live fire tests proved the end-to-end system capability of AIM-9X on the F-35, including:
Loading
In-flight carriage
Target acquisition by the aircraft, passing a target cue to the missile on the rail
Missile target acquisition and track
Launch initiation
Safe separation
In-flight guidance
Impact/proximity fuzing at target intercept.
The F-35 can carry two AIM-9X missiles on its wings and four AIM-120s internally when configured for an air dominance mission. These test firings advances integration of the AIM-9X, with introduction across the F-35 fleet expected in 2017.
The fourth guided test in the series is expected to take place later this year.
AIM-9X is a U.S. Navy-led, joint Navy and U.S. Air Force program, with program offices in Patuxent River, Md., and Tucson, Ariz. Raytheon has been producing AIM-9X missiles for more than 14 years.
The program entered operational service in 2003 and international deliveries began in 2005. AIM-9X Block II, which adds a datalink capability, successfully completed operational testing and began full rate production in 2015.
The Block II will also be the baseline effector for the U.S. Army Indirect Fires Protection Capability Increment 2 Intercept, Block 1, making AIM-9X a true dual-use missile, effective in either air-to-air or surface-to-air applications without the need for modifications to the missile.
AIM-9X currently has 21 international customers. This includes nine original Block I customers, followed by 12 new and five repeat Block II customers. Block II deliveries to international customers will begin in 2016.