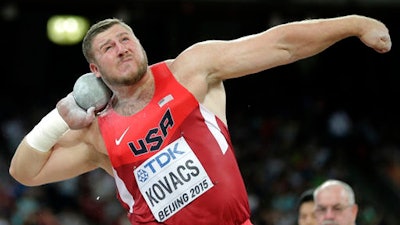 AP Photo/Andy Wong, File
RIO DE JANEIRO (AP) — The seeds for many of the 25, maybe 30, medals the U.S. track team hopes to win in Rio de Janeiro were planted at a training center in California with the help of technology originally designed for golf.
One of the many tools USA Track and Field makes available to its athletes is called "Track Man," a computerized tracking device that sports fans might recognize from watching golf on TV. In addition to golf balls, "Track Man" can trace the trajectory of shot puts and hammers to allow the athletes who throw them keep track of how high and far they go.
"Immediate feedback," says Phil Cheetham, senior sport technologist for the U.S. Olympic Committee, when asked about the greatest benefit of the technology. "Immediate knowledge of results is proven to help you improve technique much more quickly than if you don't have the feedback."
Saddled with restrictive sponsorship rules and less-than-ideal earning potential, athletes have been lashing out for years against organizations such as the USATF for not plowing their profits back into the pockets of the people who put on the show.
Track Man and the program at the Olympic Training Center in Chula Vista, California, are examples of how the federations are, indeed, trying to invest in athletes. Some of the investment comes in the form of direct cash into the pockets of the runners and throwers; other comes in training tools like Track Man and similar technologies that help sprinters and jumpers.
"Since I got here, I've improved over four feet," said Joe Kovacs, the 2015 world champion whose first coach was his mother. "It's been a combination of great coaching, awesome facilities and the technology we have."
Most notable among those who don't think USATF does all it can for athletes is 800-meter runner Nick Symmonds, who boycotted world championships last year over a dispute about what runners can wear in a sport where both athletes and institutions depend on shoe and apparel companies for most of their money. Symmonds was injured and didn't qualify for the Olympics, but he's hardly alone.
"They're basically taking what they make and sinking it back into training," longtime agent Peter Carlisle said about the athletes in an interview last year. "And to get that NGB or USOC money, or at least an amount that would make a difference, you almost always have to be pretty well established. It's very hard to pay for a career that way."
The USATF tries to help in a number of ways:
Some areas where the USATF spends on athletes:
$850,000 on sports science in 2015, including technology like Track Man. That figure will be $1.25 million in 2016 and $2 million annually from 2017-2020.
Free medical care for athletes at major competitions, courtesy of a sponsorship deal.
The "Talent Protection Program," that involves USATF identifying around 50 graduating college athletes with medal potential and attempting to sign them to contracts that keep them on track with coaching and training after they graduate. "Some post-collegians flounder for a year or two," said Duffy Mahoney, USATF's chief of sport performance. "We've got talent. We've got to reduce the attrition of the talent and get it onto the team."
A pool of money dedicated for bonuses to coaches who help athletes win at the Olympics and world championships.
Finally, there is cold, hard cash. Mahoney estimates that a top-tier, medal-winning athlete such as Kovacs can take home upward of $160,000, including prize money, and bonus money from USATF and the USOC.
Roughly half the federation's $30 million annual budget goes to athlete support programs in the form of cash, sport science, national teams, athlete travel, insurance and other expenses. The amount of actual cash budgeted to go directly to elite athletes rose from $5.13 million in 2015 to $8.6 million in 2016.
Of course, not all athletes benefit equally. The training center in Chula Vista serves around 30 track and field athletes at any given time, all of whom have to show potential to make the podium. Hundreds more can use the medical services USATF provides at meets.
The federation has a difficult line to walk, needing to funnel resources to the athletes but with the knowledge that track and field is largely an individual sport, and the priority is making sure athletes are comfortable in their training environment.
In Kovacs' case, it often means he can train without his coach even being there.
"I can have a practice, have the practice recorded, he can coach me from a distance, and when he does come, we're not making up for lost ground," Kovacs said.
More than dollars, though, the number most people will be focusing on how many medals all that money helps produce. The Americans won 28 in London. But last year at world championships, they only won 18.