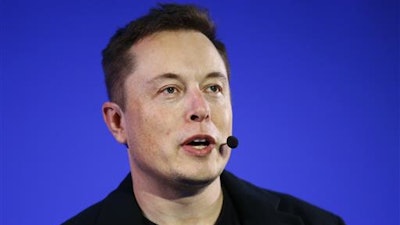 AP Photo/Francois Mori, File
Tesla Motors CEO Elon Musk, under pressure after a fatal crash involving one of his electric cars, went on Twitter Sunday to say he's working on another "Top Secret Tesla Masterplan." He said he hoped to publish details this week.
Working on Top Secret Tesla Masterplan, Part 2. Hoping to publish later this week.

— Elon Musk (@elonmusk) July 10, 2016
The tantalizing message echoes an August 2006 blog post, titled "The Secret Tesla Motors Master Plan (just between you and me)," in which Musk unveiled the cars that became the Tesla Model S four-door family car and the Tesla 3 sports sedan.
Tesla and Musk have been hit with a recent string of bad news.
Federal officials are investigating a May 7 crash in Florida that killed a man after his Model S's cameras failed to detect a turning tractor-trailer and did not automatically activate the brakes.
Tesla also said last week that shipments to customers fell in the past three months, making it unlikely the California-based firm would meet expectations for delivering 80,000 to 90,000 vehicles this year.
Musk ran into criticism for Tesla's bid of up to $2.5 billion last month for the financially troubled firm SolarCity, which installs solar panels and is run by Musk's cousin, Lyndon Rive.