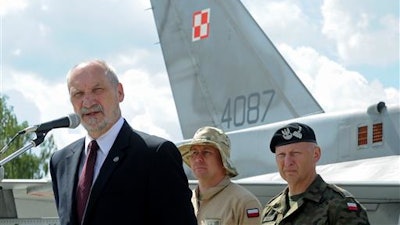 AP Photo/Alik Keplicz
WARSAW, Poland (AP) — Poland's Defense Ministry says the nation's major weapons maker has signed a letter of intent to cooperate with the U.S. maker of Patriot missiles.
The ministry announced the deal between Polska Grupa Zbrojeniowa S.A. and Raytheon Company on its website Tuesday, just three days before Warsaw hosts a key NATO summit.
The summit will decide to raise the defense of the region anxious about its security after Russia annexed Crimea in 2014.
Polish Defense Minister Antoni Macierewicz said Monday he will sign an agreement with the U.S. that will name Raytheon as the probable provider of Poland's missile defense.
The decision was taken after Raytheon agreed to spend 50 percent of the project's cost, estimated at billions of dollars (euros), on cooperation deals with the Polish defense industry.