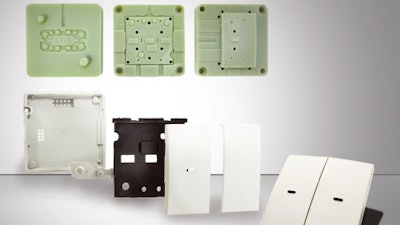 Stratasys Ltd.
Berker is a German designer and manufacturer of high quality electronic switches and intelligent building management systems. The company has won numerous awards for its designs, which can be found in buildings around the world. Recently, the company began reducing its production costs and time for testing electrical component prototypes by using Stratasys 3D printed injection molds.
The 3D printed injected molds (above in green) are produced using digital ABS plastic, the resulting parts assembly can be seen below the molds.
Injection molding is one of the world's most widely used manufacturing processes and 3D-printed injection molds are used to create prototype parts in order to detect issues in the part's form, fit, and function in the actual final material.
A newly designed Berker electrical component required parts produced using injection molding. Once assembled, the parts had to pass an electrostatic discharge (ESD) test conducted by an independent testing agency which meant that the switch prototype had to use the same materials as the final part.
Instead of using metal injection molds to test the designs, Berker decided to try 3D printed injection molds produced on a Connex multi-material 3D printer. One of the biggest challenges was that the newly designed parts needed to fit precisely in order to snap fit together with an existing metal mold-produced part.
3D Printing Enables Flexibility
Berker produced a series of 3D-printed injection molds using Stratasys PolyJet 3D printing technology with Digital ABS material. Each 3D printed mold, with a different geometry, was used to inject a different final part material: ASA, PC, and TPE.
"This new flexibility enables us to try out two or three different solutions at the same time to get the best result," said Andreas Krause, Head of Technical Department & Manufacturing, Berker. "The confirmed quality of our products produced using these functional prototypes has accelerated our R&D processes."
The resulting time and cost savings were impressive, with an average 83% reduction in cost per mold and 85% reduction in production time.
Today, Berker has the component in full production.