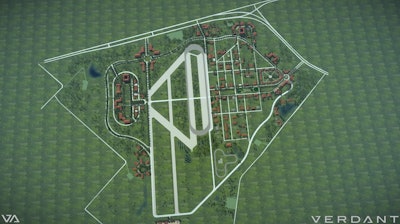 Texas A&M
COLLEGE STATION, Texas (AP) — The Texas A&M University System is developing a new research and development campus near its flagship College Station campus to focus on evolving technologies like driverless cars, robotics and materials to fix the country's eroding infrastructure and train people how to use them (see video below).
A&M System Chancellor John Sharp said Monday the $150 million initial investment will construct seven buildings and testing sites and upgrade what is now its Riverside Campus at the old World War II-era Bryan Air Base. In its new incarnation, he expects as many of 10,000 students could be studying and earning degrees there.
The project includes a $12 million transportation center for research, design and testing of automated vehicles, which A&M officials said was only one part of the overall project.
The largest piece would a $73 million Center for Infrastructure Renewal, focusing on development of new methods and better materials to address concerns about the nation's failing infrastructure. Another $12 million center will be devoted to robotics, connected vehicle technologies and cyber security.
Sharp said the new campus would be a "magnet for technology companies locating their research facilities" to the area."
"It will bridge the 'valley of death' between product development and the marketplace," M. Katherine Banks, vice chancellor and dean of engineering, said.
In the area of automated vehicles, Christopher Poe, assistant director for connected and automated transportation strategy at the A&M-based Texas Transportation Institute, said the institute already is working with several manufacturers of trucks and components like steering and braking systems and how automated vehicle technology can connect with vehicles. Connected vehicles can talk with one another and use information, for example, to warn drivers of things like road and weather conditions and construction zones.
"We think those two paths are going to merge," he said of driverless and connected vehicles.
Some vehicles already are under construction and the new center would help in that kind of research once they are delivered later this year, Poe said.
Testing of eight driverless cars began last summer in Austin, home to the rival University of Texas, in a Google-sponsored project.
The new A&M campus will be renamed the RELLIS campus, which the A&M System said was an acronym for the Texas Aggies "core values" of respect, excellence, leadership, loyalty, integrity and selfless service.
"It is a big idea and it is important that the Texas A&M University system nurture big ideas," Sharp said.