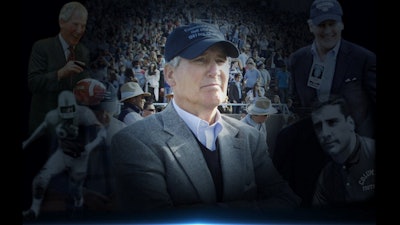 Columbia University
According to the Associated Press, Bill Campbell, a management guru to Steve Jobs and other Silicon Valley luminaries, has died after a long battle with cancer. He was 75.
Although not widely known outside Silicon Valley, Campbell played a pivotal role in shaping the direction of both Apple and Google, two of the world's most powerful companies. He also was consulted by other technology companies and entrepreneurs trying to manage the rapid growth triggered by their innovations.
In a post on Google+, Alphabet (formerly Google) Executive Chairman Eric Schmidt remembered Campbell:
Bill Campbell, our very close friend, died this morning. A man with a huge heart, who hugged everyone he met with, was more than a mentor. He helped us build Google and in countless ways made our success possible. We started with him as an external coach but he quickly became the internal management expert. He attended our staff meetings, met with management, and spent countless hours with our leadership. He helped build our Board of Directors, and helped build our culture. He worked very very closely with our Founders in every possible way.

His contribution to the success of Google and now Alphabet is incalculable. His legacy is the smile that he created on everyone's (sic) face, and the great leaders of the valley whom he coached. Bill was a truly gifted man, and the world lost a great leader this morning.
Campbell's background gave little inkling he would become a mentor and sounding board for a list of technology-industry leaders that included Apple's late co-founder.
Before moving to Silicon Valley in the 1980s, Campbell spent six seasons as the head coach of Columbia University's football team.
Columbia University released the following tweet:
Columbia Athletics is saddened by the loss of Bill Campbell '62CC '64TC. https://t.co/QWKXi3PDoy pic.twitter.com/BMRKHtyci1

— Columbia Athletics (@GoColumbiaLions) April 18, 2016
He remained known as "Coach" after he became an influential technology-industry adviser.