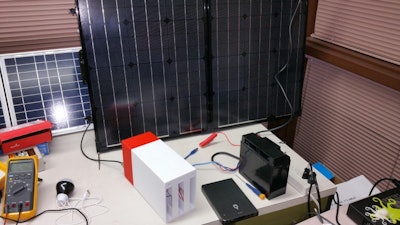 NovoMoto
Fourteen of the Midwest's most promising clean energy startups gathered in Chicago last week to compete for a combined $1 million in funding at the sixth annual Clean Energy Trust Challenge.
Touted as the largest single-day clean energy pitch competition in the United States, the Clean Energy Trust Challenge is also the third of eight regional competitions in the Energy Department's Cleantech University Prize.
NovoMoto, a student-led startup from the University of Wisconsin-Madison, took home the $50,000 Energy Department prize in the student track at this year's event.
NovoMoto is a social enterprise that aims to empower communities in sub-Saharan Africa – particularly the Democratic Republic of the Congo – by providing renewable, sustainable electricity with its MicroPlant technology.
According to the company, 59 million people in Congo don't have access to reliable grid electricity and instead use kerosene to meet their lighting needs, which is an expensive lighting source and poses significant health and environmental risks.
NovoMoto says it provides an affordable alternative to kerosene by incorporating solar power technology, control and monitoring software, and local partners to deliver reliable electricity to Congolese homes.
In addition to the Cleantech University Prize, NovoMoto also won $40,000 in prize funding from the Power Clean Cities Award and the Hanley Family Foundation Award. They were one of only four teams to win prize funding at the Clean Energy Trust Challenge.
NovoMoto will join Nelumbo, winner of the University of California Berkeley Cleantech University Prize, and DR-Advisor, winner of the Allegheny Region Cleantech University Prize, at the Energy Department's Cleantech University Prize National Competition in Denver in June. Teams at the National Competition will compete for a $100,000 grand prize.
The Cleantech University Prize aims to inspire the next generation of clean energy entrepreneurs and innovators by providing them with competitive funding for business development and commercialization training and other educational opportunities.
Formerly known as the National Clean Energy Business Plan Competition, the Cleantech University Prize has attracted more than 1,000 teams, resulting in more than 70 ventures, 120 jobs, and $120 million in follow-on funding.
Since its inception in 2011, entries have come full circle to achieve working prototypes at commercial scale.
Upcoming Cleantech University Prize regional competitions include Rice University, Massachusetts Institute of Technology, and first-time host Rutgers University.