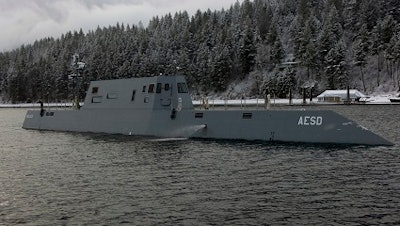 Wikipedia
BATH, Maine (AP) — The price tag for the most expensive destroyer built for the U.S. Navy is still growing.
Updated figures from the Congressional Research Service indicate the cost of three ships in the Zumwalt class has grown 3.7 percent, or $450 million, from the previous fiscal year. That lifts the total for the three ships to $12.74 billion.
The first-in-class Zumwalt that's under construction at Bath Iron Works has successfully completed builder trials, and it will undergo acceptance trials later this month before delivery to the Navy, said Matt Wickenheiser, a spokesman for the company. It's due to be commissioned in October.
It will be followed by two more of the stealthy destroyers that feature an angular shape to reduce radar signature.
The Navy didn't appear to be overly alarmed by the revised cost estimates for the 600-foot ships. The projected cost is about 1 percent above the acquisition program baseline established in 2011, said Capt. Thurraya Kent, a Navy spokeswoman.
The projected cost is about 1 percent above the acquisition baseline price set in 2011 after a review triggered by growing costs. As a result, the program was reduced to three ships, driving up the cost of the individual units,
Cost overruns are common in first-in-class military systems.
There's likely plenty of blame to go around, and that includes the Navy's decision to serve as systems integrator instead of leaving the task to the shipyard, which is a subsidiary of General Dynamics, said Loren Thompson, defense analyst at the Lexington Institute.