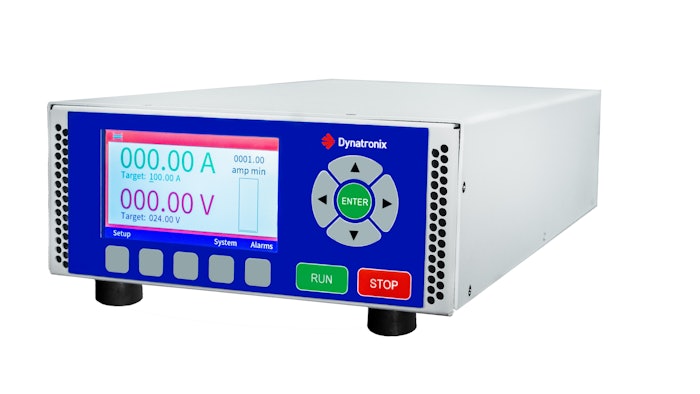 The new DTX 2400 Series DC power supplies from Dynatronix, Inc. (Amery, WI) includes models with outputs of 0-24 volts at 0-100 amps and 0-100 volts at 0-24 amps. Output is limited to a maximum of 2400 watts DC and five different DTX models are available. Typical applications include electroplating, electro-polishing, anodizing, waste water treatment and cathodic protection.
Using state-of-the-art FPGA controls for increased flexibility, reliability and control, the DTX Series offers many unique and user friendly features such as:  menu-driven 4.3" full color display; ampere time totalizer; ampere time, real time and manual cycle control options; visual tolerance alarms; fault detection and Ethernet/IP or analog communications.
With universal input, the DTX 2400 Series will operate on 100-240, 47-63Hz, single phase AC input. The FPGA controller automatically detects the incoming power levels and optimizes the power supply to gain the most efficiency. The Dynatronix DTX 2400 Series package measures just 3.43" x 8.45" x 18" (HWD), excluding connections on the rear of the unit. 
www.dynatronix.com; 800-826-7172