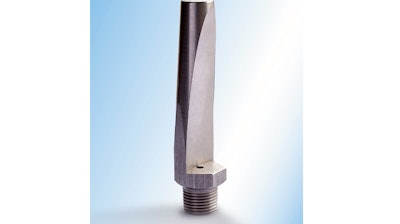 BEX, Inc. (Ann Arbor, MI) high impact spray nozzles are designed to deliver a flat, thin, fan-shaped spray with sharp definition on all edges, and minimal atomization. The spray is deflected away from the center line of the spray nozzle. With narrower spray angles, the nozzle delivers even greater impact force with narrow coverage. Bex FP high impingement nozzles have one-piece construction, and a single clog-resistant through-hole. Additional features include:
A wide range of spray angles at operating pressures up to 150 psi.
An internal guide vane, which assures distribution is uniform.

Construction from brass, 303 and 316 stainless steel, Kynar, Hastelloy, Monel, Teflon and other materials.
To ensure the best outcome, Bex provides expert application assistance for OEMs, end users and contractors.
www.bex.com; 734-389-0464