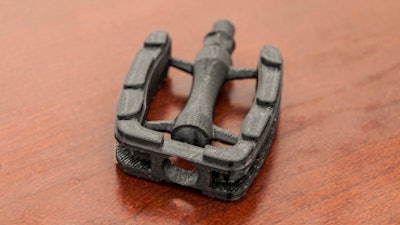 Xometry
A common misconception about prototyping is that it's reserved for early in the product development cycle. But the truth is, many engineers use prototyping in several phases, iterating early and often to present, test and perfect their ideas.
If you're not building multiple prototypes, you might be costing yourself more in the long run – by being later to market, having a sub-optimal product design, or spending more on larger manufacturing runs.
To help you perfect your design and save on costs, we've put together a list of five key prototyping phases, along with a few of the manufacturing processes best suited for each (view photos in gallery).
Product Concept
To convey your idea or develop a sales model. This phase typically occurs early in the product development lifecycle, and the aim is to build either a one-off piece or several pieces quickly. In this stage, prototypes can have a wide range of prices, depending on what is needed – from quick and relatively inexpensive 3D printed prototypes that can bring a concept to life within a few days, to more polished, professional-looking sales models that are typically more time-consuming and resource-intensive to produce (e.g., CNC machining services).
Processes:
CNC Machining
DMLS
FDM
Metal Binder Jetting
PolyJet 3D
Sheet Metal
SLS
Proof of Concept
To create a working model. The goal is to demonstrate core functionality and prove that the design works as intended, without necessarily trying to match the aesthetics of the finished product. In some cases, a proof of concept will use off-the-shelf components to help save on costs. SLS, which uses a durable white nylon and is commonly paired with metal inserts, is a popular choice for working models. It's also one of the most cost-effective 3D printing processes.
Processes:
CNC Machining
DMLS
FDM
Metal Binder Jetting
Sheet Metal
SLS
Urethane Casting
Industrial Design
To validate the aesthetics, ergonomics, or scale of a product. In this stage, the prototype simulates the final product, and the aim is to analyze for the best usability and overall ease of use. Typically, the focus is on using similar materials to the final product. For example, PolyJet 3D printing can create rubber-like parts, and FDM uses the same thermoplastics that can be found in injection molded pieces. Along with metal CNC machined prototypes and metal 3D printing, there are also some great, low-cost alternatives for building metal parts, e.g., SLS nylon with nickel plating.
Processes:
CNC Machining
DMLS
FDM
Metal Binder Jetting
PolyJet 3D
Sheet Metal
SLS
Urethane Casting
Functional Prototype
To see if an idea will actually work. The goal of a functional prototype is to fail fast by testing early and often through iterative design. Potential applications include testing aerodynamics, mechanical performance, mechanical properties, and thermal performance. For this phase of prototyping, investments are better applied at the beginning, rather than towards the end of the process – when mistakes can cost more to correct. Fortunately, there are a variety of rapid prototyping processes today that are capable of building functional prototypes quickly, cost-effectively and with high precision.
Processes:
CNC Machining
DMLS
FDM
Metal Binder Jetting
Sheet Metal
SLS
Urethane Casting
Pre-Manufacturing Research
To optimize a product for volume manufacturing. A pre-manufacturing research prototype will look and function similar to a finished product that you would find on either a store shelf (if a consumer product) or in an industrial setting. Importantly, this phase of prototyping involves examining parts through the lens of design for manufacturing/design for assembly, in order to make production efficient at large quantities. Oftentimes small changes in product design, or changes that would not be noticeable to the end-user, can have a big impact on cost – especially at high volumes.
Processes:
CNC Machining
DMLS
FDM
PolyJet 3D
Sheet Metal
SLS
Urethane Casting
Xometry launched in 2014 and has grown rapidly, driven by an instant quoting platform and manufacturing expertise. The company's capabilities include CNC Machining, Sheet Metal Fabrication, Direct Metal Laser Sintering (DMLS), Selective Laser Sintering (SLS), Fused Deposition Modeling (FDM), PolyJet 3D (PJ3D), Metal Binder Jetting (BJ3D), and Urethane Casting.