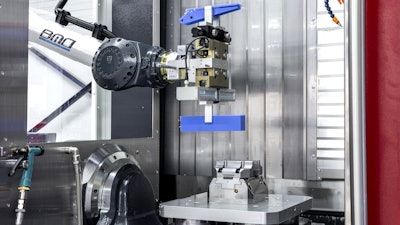 Faulhaber Group
Until now, users in the metal and plastics processing industries faced a difficult choice. With CNC lathes and milling machines, one opted either for the largest possible variance or for large volumes.
An innovative solution from the Netherlands makes both possible and simultaneously lowers the threshold for automation. In the servo-controlled gripper jaws, brushless DC-servomotors with integrated speed controller from Faulhaber provide the necessary precision and reliability.
Dutch company BMO Automation started in 2008 with the vision of a significantly more effective loading of CNC lathes and milling machines. Customers from the metal and plastics processing industries can make use of modular complete solutions for the machining industry characterized by high-quality, user friendly and flexible automation solutions.
Collaborating with Faulhaber resulted in a servo gripper that is connected to a robot arm in the robot cells. These cells are used for the automatic loading and unloading of CNC lathes and milling machines.
Game changer
With their robot cells, BMO Automation from the Dutch town of Nederweert in the province of Limburg enables automated production of widely varying batch sizes with quantities as small as a single unit.
"Performance at BMO is defined as flexibility times productivity," marketing manager Maarten van Bun Using said. "Using the servo gripper, flexibility is increased significantly and customers can automate for batch sizes as small as one. A simple robot or cobot performs the same job 1000 times. But we believe that the future is more likely to be the automation of smaller product series in a single pass. We call this multi-batch automation. We can also automatically manufacture 1000 parts, but split into multiple series with low volumes. The result is both high mix and high volume."
High mix & high volume
The margins in the manufacturing of small quantities are generally higher than in mass production. It is more personnel and cost-intensive if the workpieces need to be manually loaded between individual turning and milling processes.
Thus, a solution that achieves both high variances as well as high volumes when using CNC lathes and milling machines in the metal and plastics processing industries is a game-changer.
For their approach, BMO Automation combines the advantages of pallet automation with the option of also being able to load individual workpieces automatically. "High mix – low volume" becomes "high mix and high volume."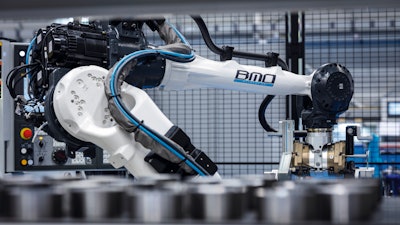 This is made possible by servo-controlled gripper jaws whose precision and reliability are guaranteed by Faulhaber drives. In the servo gripper, a Faulhaber motor drives a gear spindle that is part of a linear guide system. The gripper fingers, connected to the guided blocks, move to the desired position for the product that is to be loaded into the CNC machine. The dimensions of the workpiece can change following the turning or milling process. The servo gripper automatically adapts the position of the gripper fingers and does so without changing the loading and unloading cycles. As a result, it is not necessary to change the gripper.
"Harco Hermans, responsible for research and development, knew Faulhaber from previous projects, where he had very good experiences with the Motion Control products," Maarten van Bun said.
The appropriate motor was selected using the Drive Selection Tool on the Faulhaber website. BMO Automation received support from Faulhaber in checking the script files for communication with the BMO Intelligent Control Software.
Development lasted approximately one year, including a two-month test phase with reference customers. The biggest challenge was integrating a reliable solution that is available in the smallest possible dimensions with a low weight and has a minimal impact on the load capacity of the robot.
Outstandingly innovative
A concentration in the area of CNC automation, many years of experience and contact with manufacturers of CNC machines enables complete integration of robot automation in machining production.
BMO is a leader here in the field of automation and digitization. This is also evidenced by three nominations to the TechniShow Award.

Automatically an advantage
Automated manufacturing also makes production possible on-site and eliminates the disadvantages of outsourced production such as closed borders, restrictions on travel and the movement of goods, longer border and customs inspections and local lockdowns.
"If you would like to automate, it is important that a precise process be created that constantly guarantees a high level of safety. This precision and, in particular, the repeatability are important because everything happens fully automatically, the error rates are low and our automation solutions function without an employee needing to be present," Maarten van Bun said.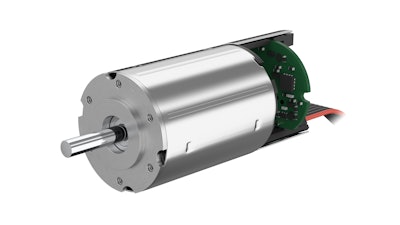 www.faulhaber.com