Figure 1
Industrial equipment with any amount of electrical controls or automation on-board is a candidate to receive improved monitoring and control features. Original equipment manufacturers (OEMs) design their systems for reliable functionality, but are also looking for ways to improve ease-of-use, authentication, data gathering, and user safety.
Many OEMs are finding that the latest developments for using radio-frequency identification (RFID) smart readers and tags with equipment are an ideal way for managing user privileges, providing traceability, and enhancing safety.
Authentication, Monitoring & Safety
The most basic equipment may simply have on/off capability, perhaps with no security or just a key switch. However, it is often desirable to authenticate whether an operator, supervisor, engineer, or maintenance person is accessing the equipment, and to assign various operational privileges based on each person's role. Sometimes there are company initiatives or regulatory requirements mandating such improved equipment intelligence.
Many end users need better visibility into who is operating equipment and what actions are taken to support optimization efforts and provide manufacturing traceability. At a most basic level, OEMs and end user companies want to ensure their personnel are working safely.
Security Schemes
Industrial equipment operational security, authentication, and tracking can be approached in several ways, each with pros and cons:
Physical keys are inexpensive but only provide limited automation options, and they are easily lost, copied, or given to others. Magnetic strip and swipe cards provide more automation possibilities but may not survive industrial site conditions.
Passwords enable limitless choices, although they can be forgotten or leaked, and they require a significant digital infrastructure and management.
Biometrics, such as fingerprint or face scanners, are becoming common for consumer applications. However, these techniques are relatively expensive to implement and do not work well for equipment applications where users are often wearing some type of personal protective equipment, such as gloves.
For use with industrial equipment, RFID methods provide many advantages and overcome the shortcomings of other approaches.
RFID Devices for Industrial Equipment
RFID tags are likely familiar to anyone who accesses a secured building or parking lot. The tags themselves are inexpensive and robust physical tokens, well suited to survive industrial environments, but easy to manage or replace if they are lost.
Because RFID tags are passive, they are lightweight and do not require batteries. RFID readers generate a radio signal which causes the passive RFID tag to respond when it is in range. However, consumer- or commercial-grade readers may not be robust enough or have the right form factor for industrial equipment use.
Industrial-grade RFID readers should be designed to fit into common control panel openings, such as a 22mm knockout hole. They should be rated at least IP67, meaning they offer protection against the dust and low-pressure liquids commonly found around equipment (Figure 1).
For best user feedback, it is important that industrial RFID readers offer indicator lights to confirm if they are in standby mode, and whether a tag read was successful or not. It is also good for readers to include a built-in buzzer which can be enabled via software to provide audible operational feedback (Figure 2).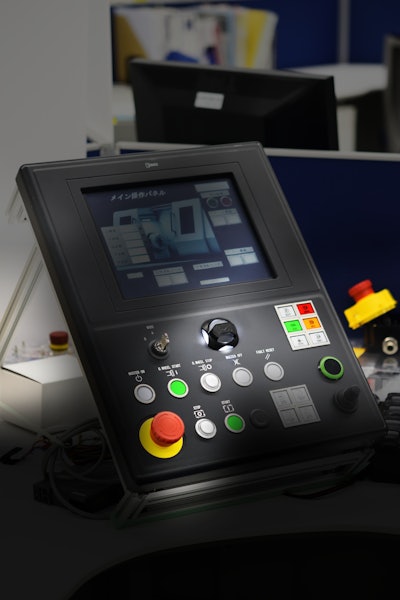 Each RFID tag carries a unique ID, which the equipment designers configure to be associated with a specific user, or perhaps a worker category or operational function. There are many global RFID standards such as type A, F, or V apply to both card- and fob-style tags.
On the other hand, fob-style tags are better suited for carrying in typical equipment operating environments. They are available in many colors and with pre-assigned default authorization levels, which can be customized as needed. Tags may be scanned intermittently as equipment users perform tasks, or the reader may have provisions requiring the tag to be in position while the user is working.

Applying the Intelligence
RFID readers are more than on/off switches. They are intelligent devices which must interpret the identification information of the physical tag, and then communicate this information to the associated automation or supervisory system.
The reader therefore should include Ethernet communications and be compatible with industrial protocols such as Modbus TCP/IP or EtherNet/IP. Using configuration software, in the case of the IDEC KW2D smart reader for instance, designers can register up to 500 tags and assign up to 255 authentication/authorization levels, providing significant flexibility.
A typical industrial equipment application is to integrate the smart RFID reader with a programmable logic controller (PLC) or human-machine interface (HMI) which already operates the machinery. The equipment could be a machine tool, electrical distribution controls, robotics, or anything else. Once the RFID information is available, designers can incorporate it to manage operational privileges, track usage, and improve safety.
For instance, it might be desirable to define user categories of new staff, trained operators, technical leads, and maintenance personnel. The automation system might let new staff (who are assigned the appropriate RFID tag) only view information on an HMI. Other personnel could have increasingly greater access and control. The system would log who was using the PLC and HMI automation and what operations were performed. Safety is improved because users with lesser privilege would be disallowed from performing actions beyond their training.

Many types of automated industrial equipment designs can be improved by incorporating industrial-rated smart RFID readers and associated tags. Basic access control is an obvious advantage resulting in safer operation, but additional information tracking helps OEMs and end users operate equipment with maximum effectiveness.
Linda Htay is responsible for touchscreens and display products. She has more than 15 years of experience working with automation and industrial products such as HMIs, PLCs and more. Linda holds a BS degree in Electrical Engineering.