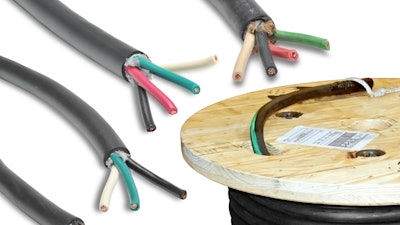 AutomationDirect
Most types of industrial equipment are factory-built at an original equipment manufacturer (OEM) shop and then transported for assembly and final installation at the end user facility. Both OEMs and end user installers appreciate ways to simplify their work efforts and reduce costs. One way they can do this is by specifying cut to length (CTL) electrical cables.
Industrial equipment relies on a wide range of electrical cabling from the factory and when installed in the field. Cable selections are impacted by the mechanical installation methods, physical motion requirements, and environmental conditions.
While designers usually make efforts to reduce the variety of cable types and colors by standardizing, there is still a need for fabricators and installers to source many sizes and amounts of these cables. Responding to industry need, some suppliers are offering comprehensive CTL services to provide a range of benefits.
Cable Considerations
Cables must be specified to match electrical, physical, National Electrical Code (NEC), and site requirements. There are many NEC designations for cable types, and some end users will require enhanced features over and above basic product offerings. Sometimes industry terminology or common generic names cloud the issue.
Cables are used for:
Power distribution
Motor connections
Input/output signals (discrete and analog) for sensors and actuators
Serial communications (RS-232/422, RS-485)
Ethernet
Automated equipment uses many categories of cables for transmitting power, analog signals, discrete signals, and networked connections (Figure 1). Cables may be routed in conduit, but many times they are attached openly on equipment and may need to flex as the equipment moves. Common environmental concerns regard exposure to water, pressure washing, chemicals, sunlight, and extreme heat and/or cold. Some of the more complicated cable selections are for low-level analog and digital connections, where shielding from electrical noise is crucial.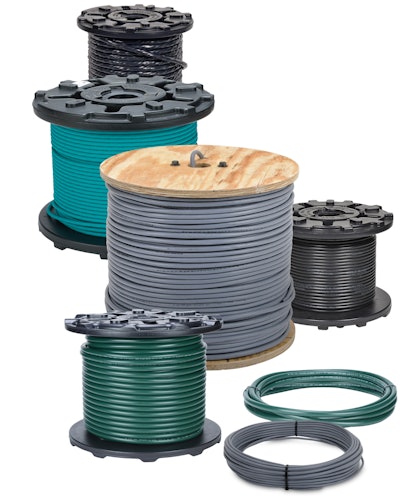 Even relatively basic electrical cables must be sized for the power load considering ampacity, voltage loss, insulation and jacket materials, conductor count, and color codes (Figure 2).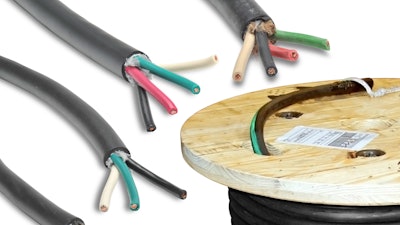 Some cable types are used infrequently, such as for low temperature (freezer) or high flexibility (robotics) applications. Premium service cable has higher initial costs than standard products but may save money over an operational lifetime. With so many cable types any specifier would struggle to stock all necessary options.
Hidden Costs of Standardized Cables
Standardizing for any activity is usually seen as a cost saving effort, but that is not always the case. For instance, because multi-conductor cables come in so many configurations, many designers would try to consolidate what is needed into fewer types so they can minimize ordering and stocking. But by doing this, they are likely over-specifying some cables and increasing costs.
Furthermore, cable types and needs change over time. Any older or leftover cable abandoned on the stockroom shelf goes to waste. Or, if it becomes necessary to purchase a whole spool when only a small amount of a cable is needed.
A Cut to Length Answer
OEM fabricators and field installers need the right cables on hand to perform their work efficiently. Instead of expending effort to maintain their own shop and field storerooms, many users find that CTL suppliers enable them to quickly and easily obtain just what they need, with an economical way to test new options.
Using a CTL approach, designers specify what cable types are needed, and installers perform a takeoff (just as they always would) of how much is needed based on the equipment configuration. Instead of drawing from (hopefully) available stock, they place an order with the CTL supplier.
Any CTL supplier must demonstrate that they:
Operate a convenient online order-taking system
Maintain available stock of many cable types
Provide fast delivery
Offer good pricing
Furthermore, CTL suppliers must establish a special work area to fulfill orders and be certified by Underwriters Laboratories (UL) to perform "Processed Wire – Respooled" services, providing traceability of cut cables back to the source spool and manufacturer source.
To support this end user shift toward CTL services, well-known supplier AutomationDirect has become certified, established the necessary infrastructure, and offers same-day shipping, free shipping on orders above a small minimum, and $0.00 cable cutting charges. A supplier with these credentials can act as a virtual stockroom.
Many end users will find the convenience, efficiency, and cost savings realized by partnering with a UL certified CTL supplier to satisfy their cable requirements by providing exactly what they need, when they need it, without the need to maintain their own costly stockroom.