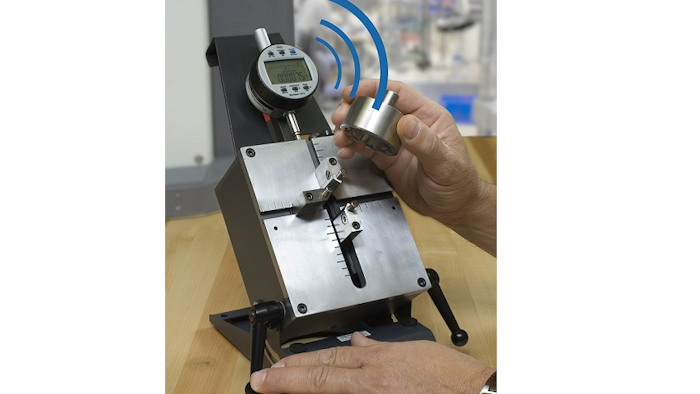 Long a shop floor standard for precision ID and OD measurements, the Multimar 36 B Indicator Gage from Mahr Federal (Providence, RI) has been enhanced to accept a wider range of contacts and anvils, enabling measurement of pitch, gear diameters, threads, taper diameters and recesses, and more. It can also accept a Mahr Integrated Wireless Indicator for wireless data transmission. Handy and economical, the Multimar 36 B is available in both T-Plate and V-Plate styles and in two sizes. The 36 B ID/OD Indicator Gage can measure inside diameters from 0.75" to 9" and outside diameters from 0.25" to 9.5", and can accept any indicator with an 8 mm mounting shank. Other features include:
An improved design for accepting many of the contacts and anvils from our Multimar 844 T universal gage, making the 36 B even more versatile than ever before.
By combining the gage with a Mahr Indicator with Integrated Wireless, users can transmit measurement results wirelessly to their data collection system.

A T-Plate configuration on the 36 B that gives a diameter reading directly across the diameter (a third contact may be used as a side-stop or centralizer), while the V-Plate configuration is self-centralizing.
Adjustable contact retraction, which allows for the measurement of grooves and races.
Frictionless reed-spring motion transfer, which facilitates repeatability, and gaging pressure is adjustable from 0-35 N/0-8 lb.
www.mahr.com; 800-343-2050