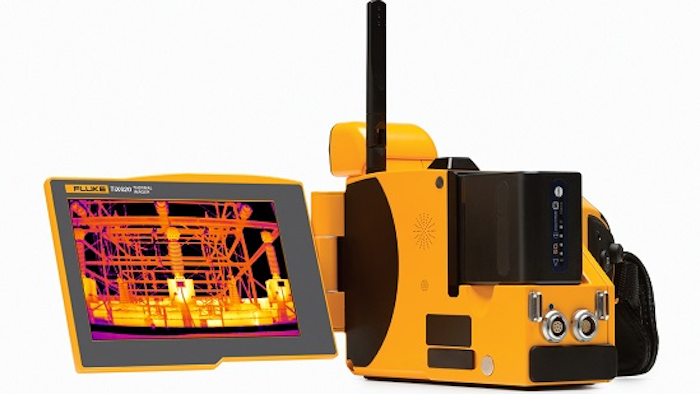 Fluke Corp. (Everett, WA) has introduced the new TiX620 Infrared Camera, joining the TiX640, TiX660 and TiX1000 models as part of the Fluke Expert Series. According to Fluke, the TiX620 is an ideal infrared camera for the experienced thermographer. Its 640 x 480 resolution provides high measurement accuracy and 5.6" high-resolution LCD screen affords a premium in-field viewing experience, making identification of problem spots quicker and easier. Other features include:
A large screen, enabling thermographers to identify issues and edit images directly on the camera while still in the field — reducing time in the office that was previously spent optimizing images and generating reports.
EverSharp multifocal recording, which captures multiple images from different focal distances and combines them into one image, displaying each object, from foreground to background, sharply for the best image quality.
Fluke IR-Fusion technology with three different operating modes: Picture-in-Picture, full visible light and AutoBlend. These different ways of viewing the data captured through 640 x 480 resolution make it easier for users to identify and report problems.

On-board advanced analytics, allowing users to adjust or enhance images right on the camera without additional software.
Fluke SmartView software, which provides a suite of advanced tools to view, optimize, annotate and analyze infrared images, and generate fully customizable professional reports.

Optional telephoto and wide-angle lenses add versatility to meet a wide variety of applications.
www.fluke.com/TiX620; 800-44-FLUKE