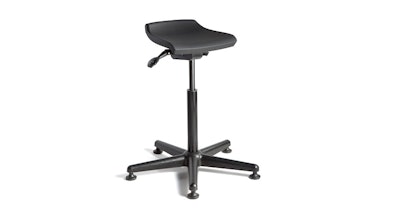 According to BEVCO (Waukesha, WI) its Ergo Deluxe Sit Stand promotes "dynamic" standing for people who work standing up. It is not intended as a place to sit, but rather an opportunity to provide periods of relief while maintaining high levels of productivity and encouraging a healthy work environment. Features include:
Ergonomic shaping, offering comfortable pressure relief.

A handle on the back of the seat, which makes moving the Ergo Deluxe Sit Stand simple and convenient.
ANSI/BIFMA standard compliance, and has achieved GREEENGUARD GOLD certification.
A 12-year warranty.
www.bevco.com;  800-864-2991