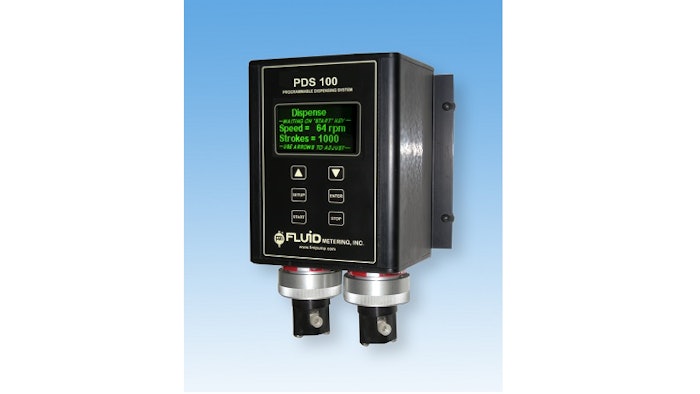 The PDS100 Programmable Dispensing System from Fluid Metering, Inc. (Syosset, NY) is a precision system capable of dispensing or pumping fluids ranging from 3mL per dispense or 18mL/min continuous (Single RH00LF) up to 1536 mL/min (Dual Q3) into pressures ranging from 10 psi to 100 psi (RH). Features include:
FMI's patented CeramPump No-Valve Fluid Control Technology.
Intuitive menu-driven programming, using front panel membrane switches with 2.75" x 1.5" LCD display.
Pump heads are integrally mounted to control unit, which includes precision stepper motors, drivers and programmable electronics housed in a rugged, anodized, aluminum enclosure.
Availability in single and dual pump head configurations in all FMI pump head sizes.
Ideal for process & production single and dual channel dispensing & filling.
www.fluidmetering.com; 800-223-3388