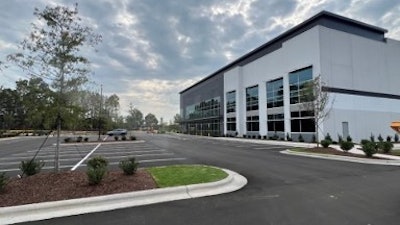 Forge Nano
Forge Nano announced plans to launch a lithium-ion battery manufacturing business called Forge Battery. The newly formed company intends to produce lithium-ion battery cells for defense, aerospace and specialty electric vehicle markets at a newly constructed Gigafactory in Raleigh, North Carolina. Forge Battery plans to use a U.S-focused battery material supply chain to further bolster the domestic battery ecosystem and reduce reliance on foreign suppliers.
The company and outside investors plan for an initial investment of more than $165 million in Morrisville, North Carolina to build the gigawatt hour-scale battery manufacturing facility. The Forge Battery facility expects to produce both 21700 and 18650 lithium-ion cells utilizing materials coated with Forge Nano's Atomic Armor surface technology.
Forge Nano's Atomic Armor will allow Forge Battery to produce first generation high-energy cells with an expected energy density of 300 Wh/kg with improved safety and extended lifetime that meet or beat performance of incumbent lithium-ion technologies. Because Atomic Armor can enhance the performance of existing and next-generation battery technologies, Forge Battery expects its cell technology to outperform current and future cell chemistries. Atomic Armor is also being used to improve production efficiency and drive down cell costs by removing electrolyte additives and reducing electrolyte consumption. The facility expects to begin production in 2026.
Forge Battery's North Carolina facility will be facilitated, in part, by a Job Development Investment Grant (JDIG) approved by the state's Economic Investment Committee. The JDIG agreement authorizes the potential reimbursement of up to $1,525,500, spread over 12 years. Forge Battery also expects to receive an additional $6,500,000 from the state of North Carolina based on its current investment projections, which include sales tax exemptions on planned capital investment.
Forge Battery's facility is expected to create hundreds of jobs for Wake County residents. Although wages will vary depending on the position, the payroll impact for the project is expected to be more than $16 million each year. Through the JDIG agreement, new tax revenue generated through Forge Battery's operation will go toward helping economically challenged communities throughout the state.
Forge Battery and local North Carolina officials are planning a groundbreaking event in the first half of 2024.