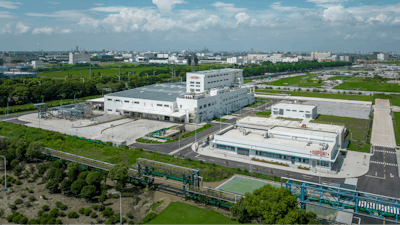 DuPont
(IEN) -- A major name in the materials market, DuPont (NYSE: DD) has announced the opening of a new facility in China for the production of adhesives.
The production plant, located in Zhangjiagang, East China, will be responsible for the creation of adhesives serving the transportation market, with a specific focus on electric vehicles.
The facility is described by DuPont leaders as "state-of-the-art" and the company hopes it will help further support its position in auto electrification applications, especially in the Asian market.
The news follows a spate of definitive business activity from the company over the last two years, including key divestitures.
In Oct of 2022, DuPont announced it would divest much of its Materials & Management (M&M) segment to Celanese Corporation for $11 billion in cash.
More recently, the company added to the streamlining efforts by announcing in August that it would divest the bulk of its ownership (~80%) in its Delrin business. DuPont CEO Ed Breen said at the time that the move would largely complete the company's "planned exit" of the former M&M segment, "advancing (its) position as a premier multi-industrial company." The transaction was valued at $1.8 billion.
DuPont has said that its objective for the future include a focus on "high-growth, high-margin industries." These include aerospace, medical, electronics, water and advanced automotive market segments. In support of this, the company added Spectrum Plastics Group earlier this year, a specialty medical device company.