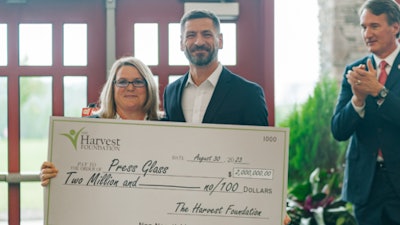 Martinsville-Henry County Economic Development Corporation
Press Glass, Inc. began preparatory work to expand its manufacturing facility in Ridgeway, Virginia. An official announcement regarding the investment was made on August 30.
For Similar Content: Subscribe to Daily Newsletters
Press Glass will invest $155.2 million to expand at the Commonwealth Crossing Industrial Park in Henry County. The company will construct a 360,000-square-foot addition to its existing facility.
"With this expansion, Press Glass will make the largest single capital investment by a business in Henry County's history," said Gov. Glenn Youngkin. "The addition of 335 new jobs, more than doubling the company's head count, helps this region continue its economic rebound and demonstrates the resurgence of manufacturing that is happening across the Commonwealth."
The expansion of the production facility is important milestone for Press Glass, Inc. in strengthening its position in the U.S. as a manufacturer of glass for the commercial construction industry.
The Virginia Economic Development Partnership worked with the Martinsville-Henry County Economic Development Corporation to secure the project for Virginia. Gov. Youngkin approved a $2 million grant from the Commonwealth's Opportunity Fund to assist Henry County with the project. Funding and services to support the company's employee training activities will be provided through the Virginia Jobs Investment Program.
The Management Board of Press Glass would like to thank people, organizations and authorities from the state of Virginia, Henry County, and Martinsville in particular, who were involved in the project and friendly welcomed Press Glass representatives to the local community.