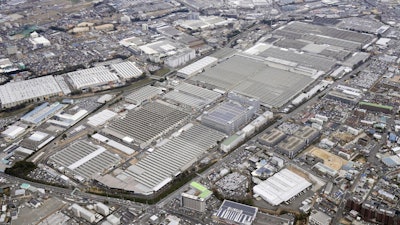 Kyodo News via AP
TOKYO (AP) — All 28 vehicle assembly lines at Toyota's 14 auto plants in Japan shut down Tuesday over a problem in its computer system that deals with incoming auto parts.
The automaker doesn't believe the problem was caused by a cyberattack but the cause is still under investigation, said spokeswoman Sawako Takeda.
Toyota said later that production will restart on Wednesday.
"We apologize for all the troubles we have caused," it said in a statement.
Toyota declined to say what models being produced might be affected.
The shutdown comes after a shortage of computer chips and other auto parts stalled production in Asian nations affected by social restrictions over the coronavirus pandemic.
The chips shortage woes had only recently started to ease for Japan's top automaker, which makes the Camry sedan, Prius hybrid, Lexus luxury brand.