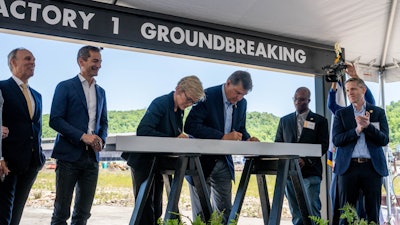 Form Energy held a groundbreaking and beam signing ceremony last Friday to celebrate the start of construction of Form Factory 1, the company's first high-volume manufacturing facility. The company is developing and commercializing a new class of cost-effective, multi-day energy storage systems.
For Similar Content: Subscribe to Daily Newsletters
Located in Weirton, West Virginia, Form Factory 1 will employ at least 750 people when operating at full capacity. At the event, the company was joined by federal, state and local officials, as well as customers, investors and stakeholders from across the region to celebrate the exciting milestone.
Form Energy selected Weirton after a year-long, nationwide site selection process that included reviewing more than 500 candidate locations across 16 states. The company ultimately chose a 55-acre site in Weirton because of the historic steel community's strong cultural heritage and the site's direct access to rail, hardened highways and the Ohio River.
In February, West Virginia Governor Jim Justice signed a bill that provides the plant with some $105 million in state funding. The $760 million, 55-acre facility will make iron-air batteries.
According to the AP, the state has committed $290 million to the project, which includes acquiring the property and starting infrastructure work.
Form Energy will begin manufacturing and assembling its iron-air battery systems at the factory in mid-to-late 2024. Form Factory 1 will have an annual production capacity of 500 megawatts of batteries when in full operation.
While the company has received major backing from the state, Sen. Robert Karnes has been skeptical. "We've got a battery company that's never made a battery," he said in February. "I don't know how you could call that anything other than a wild gamble."