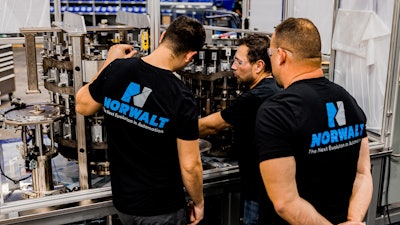 Norwalt
Norwalt, a specialist in custom-built automation and line integration machinery for complex manufacturing applications, began operations at a new production facility in Tampa, Florida.
A satellite site to the company's primary plant in Randolph, New Jersey, the new facility increases Norwalt's overall production floorspace by 25%, and features buildout potential for adjacent areas moving forward.
For Norwalt, the expansion is rooted both in current necessity and near-future opportunity. In recent years, the company has seen an unprecedented growth surge, prioritizing additional space to continue to meet expedited equipment delivery timeframes. With Norwalt anticipating future growth, the Tampa plant also provides ample elbow room to accommodate additional business.
Mirroring the New Jersey facility, the Florida plant will be utilized for the full gamut of Norwalt's concept-to-completion capabilities set. The company's engineers design, construct, validate and install premium production equipment whose functionalities include packaging and product assembly, post-mold automation, modular automation cells and robotics systems.
Norwalt serves customers in a wide array of sectors, from medical devices and food & beverage applications to personal care and household items.
Among these sectors, Norwalt views medical device and diagnostics as one particularly primed for growth. The industry depends upon pristine, tight-tolerance plastics components and products manufacturing, a niche that aligns well with Norwalt's core engineering expertise.
The company has experience designing solutions for pipette and vial inspection and assembly, medical valve and personal device assembly and diagnostic test kit assembly.
"While we've incrementally added floorspace to our New Jersey headquarters over our five decades in business, the Tampa plant marks our first dedicated secondary facility," said Keith Harman, Director of Business Development for Norwalt. "In an ever-evolving manufacturing environment, demand continues to surge for automation and line integration machinery that minimizes downtime, maximizes efficiency, and tackles otherwise labor-intensive tasks."