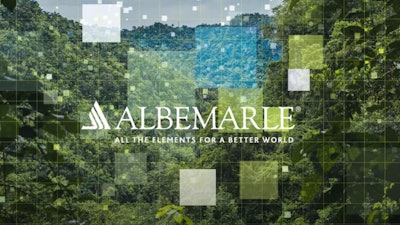 Albemarle yesterday announced Chester County, South Carolina as the location of its planned lithium hydroxide Mega-Flex facility. The facility includes an initial investment of at least $1.3 billion to help meet the surging demand for domestic and international electric vehicles and lithium-ion batteries.
The term Mega-Flex refers to the facility's ability to process diverse lithium feedstock, including lithium from recycled batteries.
Albemarle expects the facility to produce approximately 50,000 metric tons of battery-grade lithium hydroxide from multiple sources each year, with the potential to expand up to 100,000 metric tons.
Production at the facility would support the manufacturing of an estimated 2.4 million electric vehicles annually. The site also supports the Inflation Reduction Act, a federal law enacted in 2022 to incentivize the localization of critical minerals in North America.
Pending permitting approvals, the facility will be located within a nearly 800-acre parcel. Albemarle estimates the facility will create more than 300 new jobs with an average annual wage of approximately $93,000. In addition, the project would create more than 1,500 construction jobs.
To support the development of the new site, Albemarle is committed to advancing partnerships with the state, local communities, and educational institutions to build a talent pipeline and create advanced technology jobs to support the facility and the community.
Additionally, the site will likely create new opportunities for suppliers and other businesses to locate nearby.
Construction is expected to begin late in 2024.