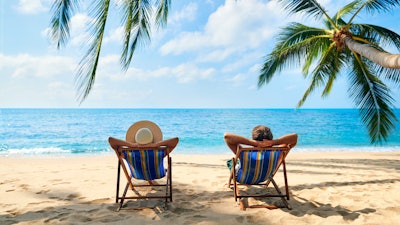 iStock
The founders of Indian unicorn startup Dream Sports have a revolutionary vacation policy.
First reported by CNBC, the company's unusual approach to employee morale has the business world reeling.
No, it's not unlimited vacation days or a company-paid trip. Instead, the company removes the vacationing employee from its systems for an entire week and fines anyone who attempts to interrupt their holiday $1,200, allowing employees to fully "unplug." No email, Slack, phone calls, etc.
The co-founders say the policy "has been effective so far." The 1-week separation helps employees to stay disconnected and have an uninterrupted holiday. Employees come back refreshed from their week's vacation, and the founders know if the company depends too much on one person for making decisions or is missing critical process documentation.
Plus, Sheth says, "no one wants to be that jerk who called someone who was on unplug."
This policy gives employees in the tech sector the opportunity once only afforded to those working for manufacturing companies with annual company shutdowns, such as Ford and other automakers.
Dream Sports was founded by childhood friends Harsh Jain and Bhavit Sheth. Dream Sports is India's first sports tech unicorn that runs the fantasy sports platform Dream11. The company was valued at $8 billion in 2021.
An Always-Connected World
Technology has made the world more connected but also stressed. Searches for "how to manage work stress" in Google have doubled since 2006. Workers can access work from their phones virtually anywhere. Managers can get in contact with employees at almost any time. COVID-19 exacerbated the issue by blending work and home life with the rise of remote work.
That said, many workers have difficulty fully disconnecting from work while on vacation.
Even when not mandated, working from vacation (WFV) is a norm for many. In a 2022 research by Qualtrics, roughly half of the 1000 respondents say they spend at least an hour a day working, even on vacation.
A recent poll from Fishbowl by Glassdoor also reveals that over 50% of professionals believe they can't fully unplug from work even when on a paid holiday. Unrealistic work expectations also contribute to vacation disturbance, with 30% of workers claiming their employers expect them to answer a phone call or text.
Additionally, a study published by Microsoft last year found that employees do most of their work during three peak times throughout the day, including right before bedtime. Bedtime is a valuable time to wind down before sleeping, and the impact of the blue light of computer screens on sleep has been the subject of many studies in the past decade.
The findings led researchers on the project to ask, "How can we make sure people are not working 24/7?"
Increased Stress in the Workplace
Work-related stress is at an all-time high even after the pandemic, with searches for "how to manage work stress" in Google more than doubling since 2006.
The Mind Share Partners' 2021 Mental Health at Work Report reveals that stress has increased in the workplace. In the study of 1,500 U.S. adults in full-time jobs, researchers found that increased stress led to increased attrition and a high prevalence of mental health issues but also led to more conversations in workplaces about mental health.
According to the survey, "the most common factor was emotionally draining (e.g., stressful, overwhelming, boring, or monotonous) work, which also worsened since the pandemic."
Furthermore, "seventy-six percent of respondents reported at least one symptom of a mental health condition in the past year, up from 59% in 2019."
In Gallup's State of the Global Workplace: 2022 Report, 57% of American and Canadian employees experience daily stress at work.
In a 2021 survey conducted by the American Psychological Association (APA), heavy workloads, low salaries, and lack of growth are common workplace stressors.
Workplace stress, anxiety, and hustle culture can lead to different residual consequences. It affects employees' mental health and productivity. As a result, many organizations' bottom lines lose $1 trillion per year.
How To Improve Stress in the Workplace
Recognizing the increased stress level during and post-pandemic, many organizations began providing workplace mental health resources, time management tools and apps, office perks, and new time-off policies similar to what Dream Sports offers.
Perhaps the most controversial is an unlimited PTO policy. Rather than having a fixed number of days of paid vacation, companies like Netflix and Evernote offer employees the chance to take as many breaks as they would like in a year.
Recently, tech giant Microsoft joined the approach by providing salaried U.S. employees a "Discretionary Time Off" (DTO) on top of mental health time off, corporate holidays, and sick leaves. Strangely enough, the approach brings an unexpected effect - employees with unlimited PTO take fewer days off, according to research.
Vacation Benefits and Guilt
While many countries offer guaranteed paid annual vacation leaves, the United States has none.
There is no federal paid vacation policy, and the government doesn't mandate employers to provide paid leave at all.
Many organizations choose to do so to attract, hire, and retain skilled workers. Still, American employees have an average of 15 days off, while Europeans have six days more.
A 2018 study by the U.S. Travel Association, Oxford Economics, and Ipsos reveals 55% of Americans didn't use their paid leaves at all.
Despite the shift to encourage workers to take a vacation, Americans are still cautious, citing pressure, layoff concerns, and potentially falling behind on work. Surprisingly, one out of three Americans feels guilty about taking a paid vacation despite feeling burned out.
Of course, mindset shifts across organizations will likely not happen with just one change in policy since workplace anxiety often has several confounding factors. However, Dream Sports plans to track employee satisfaction rates and turnover data to measure whether their policy makes a real difference.