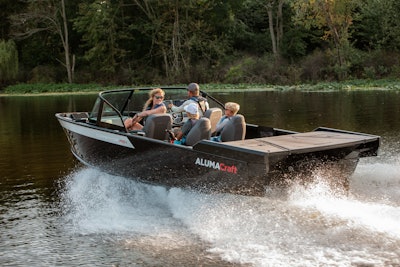 Alumacraft
BRP will begin the construction of an additional boat manufacturing plant in Chihuahua City, Mexico, a major milestone in the company's Marine strategy. With this construction, BRP intends to increase its manufacturing capacity and capabilities to meet demand for its Marine products and fuel the growth of the business.
"In light of our recent product launches that are revolutionizing the boating experience, including the industry award-winning Manitou pontoon, we want to position the business for success to meet consumer demand for our products, be more efficient, and drive market share gains," said Karim Donnez, President, Marine Group at BRP. "Our relentless focus on innovation and steady growth in the Marine category make this additional capacity necessary to launch game-changing boating experiences and achieve our Marine business strategy for 2025."
The production facility represents an expected capital investment of CA$220M and would result in the creation of up to 1,300 jobs in addition to the 2,500 current roles in BRP's Marine Group. Production is planned to start early 2025. This new plant will optimize the Company's global manufacturing footprint for the Manitou pontoons and the Alumacraft boats, and will complement the Marine Group's production facilities located in Lansing, Michigan, St. Peter, Minnesota, Sturtevant, Wisconsin, Spruce Pine, North Carolina, and Coomera, Queensland, Australia.