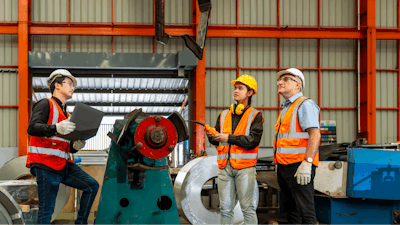 iStock
Have you ever had issues with your manufacturing company spending a lot on production but not seeing the desired returns? Or situations where you're unsure if your staff is working productively?
What exactly is manufacturing efficiency, and how can you improve it?
We'll examine five areas where manufacturers could make small improvements to achieve hyper-efficiency. These include identifying bottlenecks in production, standardizing firm procedures, obtaining data, proactive equipment maintenance, and waste reduction measures.
Data collection
To begin, you should collect and analyze data to see where your procedures are failing and where they can be improved. You can start with expensive processes and look for instances where a process occasionally takes longer than expected — perhaps some maintenance procedures are taking too much time, or a machine requires changing settings.
Consider the whole process, including the personnel, tools, supplies and methods. Then, evaluate and decide what measures to take next to remove bottlenecks and achieve optimum efficiency based on your results.
To collect production data, you can use:
IoT-enabled sensors in the appropriate devices for precise, real-time data collection

Touchscreens that enable human input for data contextualization, like human-machine interface (HMI)

A PLC for accurate and reliable manufacturing line control.
Find and eliminate production bottlenecks
There are bottlenecks in almost every process. Eliminating them is a good approach for boosting efficiency without adding more machinery or staff. The Economist discovered that manufacturers' expenses rise directly due to bottlenecks.
Look for areas or pieces of equipment with the most persistent backlogs and longest queues—for example, a machine operating at full capacity or with a long wait time.
To identify the causes of blockages and bottlenecks, map your processes and workflows. Pinpointing the exact place of occurrence might help; eventually, you'll be able to see a pattern or predict the next blockage. On the other hand, root cause analysis may be necessary if problems become persistent.
Identify and reduce waste
Examine the processes in your company that generate waste, and optimize them to reduce waste levels to an acceptable level. According to Lean philosophy, there are seven forms of waste.
Using inventory management software is a simple approach to decreasing inventory waste. In addition, it can aid in tracking raw materials and components during procurement, manufacturing, and sales.
For instance, Intel, a manufacturer of semiconductors, used lean techniques to cut down on works-in-progress (WIP) and eliminate process waste without impeding productivity. They then put quality control procedures into place. Without compromising the quality of their products, these lean solutions helped to increase efficiency.
Standardizing manufacturing processes
It's crucial to maintain consistency to achieve hyper-efficiency. Therefore, the best, most effective approach to a task should be defined, i.e., standardized — create and execute standard operating procedures (SOPs) to provide your staff with detailed instructions for each activity.
Making a checklist/SOP for each workplace, and ensuring that everyone in that workspace follows it, is an excellent place to start. If they don't adhere to the practices, you may hold them responsible; if required, provide further training.
This straightforward action can cut delays and raise the caliber of the final output. Of course, it could take some time for these lists and their ordered operations to become commonplace, but once they do, you'll see an improvement in efficiency and product quality.
Proactive management of equipment malfunctions
Rather than waiting for equipment to break down, use frequent testing to verify it can function at full capacity and correct any minor faults that arise during routine inspections. Consult equipment manufacturers to determine the ideal schedule, or base your choice on the intervals between previous failures.
A computerized maintenance management system (CMMS) is also an excellent approach to support a proactive maintenance plan. It allows you to keep track of all maintenance tasks and notifies you about assets that require maintenance via email, SMS, and other notifications.
Conclusion
Being efficient means accomplishing your goals with the least time, money and effort while minimizing waste. You utilize as few resources as possible to achieve the greatest potential outcome.
Efficient manufacturers may lower expenses and raise the caliber of their output. Although equipment breakdowns and bottlenecks will always occur, the correct methods will address some of these issues. Get your manufacturing processes up and running by selecting the best approach for your company.
For more than 30 years, Eric Whitley has been a noteworthy leader in the Manufacturing space. In addition to the many publications and articles Eric has written on various manufacturing topics, you may know him from his efforts leading the Total Productive Maintenance effort at Autoliv ASP or from his involvement in the Management Certification programs at The Ohio State University, where he served as an adjunct faculty member.
After an extensive career as a reliability and business improvement consultant, Eric joined L2L, currently serving as the Director of Smart Manufacturing. His role in this position is to help clients learn and implement L2L's pragmatic and straightforward approach to corporate digital transformation.
Eric lives with his wife of 35 years in Northern Utah. When Eric is not working, he can usually be found on the water with a fishing rod in his hands.