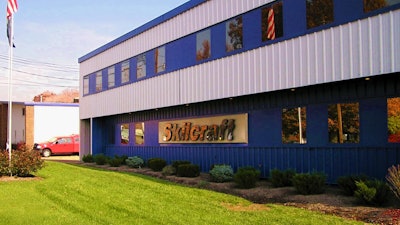 Skilcraft
Kentucky Gov. Andy Beshear last week announced Skilcraft's expansion in Hebron. The $8.4 million investment will create 14 news jobs.
The project will see Skilcraft's current operation in Boone County expand by more than 22,000 square feet, bringing the plant to more than 54,000 square feet.
The additional space will help increase production capacity and make room for new equipment that will support production of fabricated parts and metal components for the aerospace industry.
The company currently employs 112 in the state, which includes a facility in Burlington.
The Kentucky Economic Development Finance Authority (KEDFA) preliminarily approved a 10-year incentive agreement with Skilcraft under the Kentucky Business Investment program. The performance-based agreement can provide up to $350,000 in tax incentives based on the company's investment of $8.44 million and annual targets of:
Creation and maintenance of 14 Kentucky-resident, full-time jobs across 10 years; and
Paying an average hourly wage of $32 including benefits across those jobs.
By meeting its annual targets over the agreement term, the company can be eligible to keep a portion of the new tax revenue it generates. The company may claim eligible incentives against its income tax liability and/or wage assessments.
In addition, Skilcraft can receive resources from Kentucky's workforce service providers. Those include no-cost recruitment and job placement services, reduced-cost customized training and job-training incentives.
Skilcraft was founded in Burlington in 1965 and has made high-quality precision sheet metal components for more than 57 years.
In 2016, the company's services expanded to include the fabrication of components used in the aviation industry, primarily parts used in jet engines.
Skilcraft serves a broad range of industries including medical products, security and banking equipment, telecom and electronics, government and defense, OEM markets and aerospace manufacturing.
Skilcraft was acquired by O'Neal Industries in 2021, the nation's largest family-owned network of metals service centers and component and tube manufacturing businesses.
Composed of nine brands and sales of $2.8 billion in 2021, ONI is based in Birmingham, Alabama, and has more than 70 facilities throughout North America, Europe and Asia.