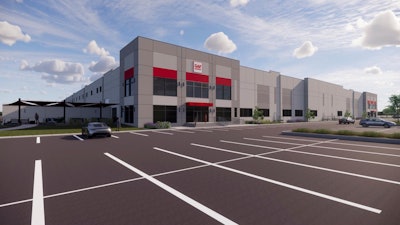 GAF Energy
GAF Energy, a division of Standard Industries, has announced a new 450,000-square-foot manufacturing facility in Georgetown, Texas. The investment will help meet growing demand for the company's Timberline Solar roof.
The new facility is the company's second in the U.S. and will increase capacity by 500%, bringing total production of its solar shingle to 300 megawatts annually. Introduced earlier this year, Timberline Solar features the world's first nailable solar shingle and is the only roof system to directly integrate solar technology into traditional roofing processes and materials.
Once complete, the Georgetown manufacturing facility will result in hundreds of new U.S.-based, clean energy manufacturing jobs.
The company's first manufacturing facility in San Jose, California, was recently completed and began production last year.
As a Standard Industries company and sister company to GAF, a roofing and waterproofing company, GAF Energy can draw on manufacturing and R&D expertise, with access to a large network of roofing partners in the industry. According to the company, one out of every four new roofs in the U.S. comes from GAF.
Timberline Solar ES has a depth of less than a quarter inch and can integrate with traditional shingles.