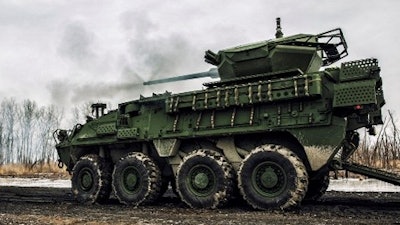 Oshkosh Defense
Oshkosh Defense today announced a new $130 million order from U.S. Army Contracting Command – Detroit Arsenal to upgrade 95 additional Stryker Double-V Hull Infantry Carrier Vehicles (ICVVA1) with the 30 mm Medium Caliber Weapon System (MCWS).
In June 2021, the U.S. Army selected Oshkosh Defense and partners Pratt Miller Defense and Rafael Advanced Defense Systems to integrate the 30 mm MCWS onto the Stryker ICVVA1. The five-year requirements contract (with one option year) includes production and logistics support of the MCWS for up to six Stryker Brigade Combat Teams (SBCTs).
Including today's order, the U.S. Army has ordered 269 upgraded vehicles valued at $356 Million to outfit three SBCTs in addition to 20 vehicles for product verification testing (PVT), follow-on operational testing and evaluation and logistics development.
In April 2022, Oshkosh Defense completed Government-planned risk management testing, which further validated the Oshkosh design. Oshkosh Defense also initiated production of the systems for delivery to PVT testing, which begins in late summer.