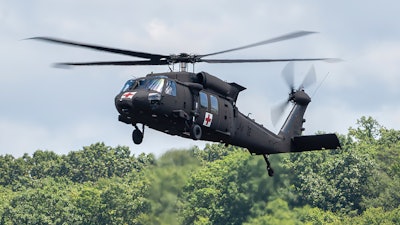 Sikorsky
The United States government and Sikorsky recently signed a five-year contract for a baseline of 120 H-60M Black Hawk helicopters, with options to reach a total of 255 aircraft to be delivered to the U.S. Army and Foreign Military Sales (FMS) customers.
The "Multi-Year X" contract for UH-60M Black Hawk and HH-60M MEDEVAC aircraft marks the 10th multiple-year contract for Sikorsky and the U.S. government for H-60 helicopters. With more than 2,100 H-60 variants in the U.S. Army's inventory, the Black Hawk continues to be the workhorse of U.S. Army aviation. As the Army continues to develop its Future Vertical Lift (FVL) capabilities, they will continue to operate the H-60M for the next several decades and alongside the future fleet.
The contract value for expected deliveries is approximately $2.3 billion, with a potential value of up to $4.4 billion, should options for additional aircraft be fully exercised. Multi-Year X deliveries are scheduled to begin in July and continue through 2027.
The H-60M Black Hawk provides additional payload and range, advanced digital avionics, active vibration control, improved producibility, enhanced handling qualities and situational awareness and improved survivability.