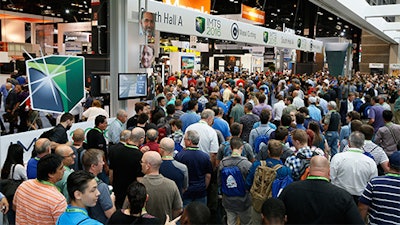 Registration is now open for the IMTS 2022 Conference, one of 12 conferences occurring at IMTS, which runs Sept. 12-17. All conferences are co-located with the show at Chicago's McCormick Place.
New events include the IMTS Women Make Manufacturing Move program to inspire women, the IMTS Investor Forum, and The Smarter Sourcing Symposium presented by IMTS and The Onshoring Project. After packing conference rooms at its IMTS 2018 debut, the Job Shops Specialty Program returns for IMTS 2022 with a focus on ready-to-implement digital technologies that will help job shops address their most pressing issues.
The IMTS 2022 Conference is composed of multiple sessions throughout the week. Topics include process innovation, plant operations, quality/inspection, automation, improving productivity, improving part quality, and developing a competent workforce to improve the competitiveness of manufacturing in the United States.
The additional seven (7) partner conferences cover subjects such as additive manufacturing, 3D printing for job shops, lasers, parts cleaning, industrial interoperability standards, and technology leadership. The Conferences at IMTS are presented by AMT, as well as by its partners and organizations co-locating their events with IMTS, including ASME, Gardner Business Media, GIE Media, HANNOVER MESSE USA, Laser Institute of America, and the OPC Foundation.
Conferences at IMTS Powered by AMT
Co-located and Partner Conferences at IMTS
Registration information for IMTS: https://www.imts.com/show/reg.cfm.