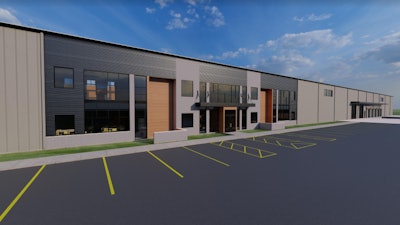 Trim-Lok
Buena Park, November 29, 2021: To better serve Trim-Lok's existing customer base and support the growth that they have experienced during their 50 years in business, including over 6 years in Elkhart, Indiana, Trim-Lok announces a major expansion in the Midwest. They have entered into an agreement to occupy a new, state-of-the-art facility on the Eastern border of the City of Elkhart, Indiana. This new facility will be 150,000 square feet of manufacturing and warehousing space and add an additional 5,500 square feet of office space with the latest technologies to support all facets of their business.
Trim-Lok's expansion will create many additional jobs, including manufacturing and warehouse jobs, as well as office positions to support the significant investment they are making into equipment to increase manufacturing capacity and implement new capabilities. This location provides Trim-Lok with shorter transit lanes for raw material and finished goods and will allow better management of freight for both Trim-Lok and their customers. Shipment times to their customers will be drastically decreased as they will now be able to better manage inventory in a more central location for customers east of the Rocky Mountains.
"Having manufacturing capabilities in the Midwest is a critical component of our ability to support our customers, especially with the market the way it is currently. We have had a fairly small, yet resilient, workforce and set of capabilities in our current 27,000 square feet facility. With the expansion, we will be growing not only our physical footprint but our workforce and capability set," Dan Whitener, Vice-President and Chief Operating Officer.
Trim-Lok, Inc. would like to thank the Economic Development Corporation of Elkhart County, The City of Elkhart, DJ Construction, Shah Properties, and all other parties who have been and continue to be involved in this process.
About Trim-Lok, Inc.
Trim-Lok, Inc. is a global leader in thermoplastic and thermoset rubber profile extrusions. Since 1971, their innovative and traditional processing methods have enabled them to meet the most challenging requirements for top quality plastic and rubber trim and seal parts. Their highly skilled team can design parts and tooling, and then fabricate them to your exact specifications ensuring performance and value. Trim-Lok adheres to strict quality control standards and invests in modern equipment and highly skilled employees who are experienced in all phases of manufacturing and production so that you can count on reliability, efficiency and repeatability. From engineering to inspection Trim-Lok can repeatedly provide complex shapes, within specific tolerances, with extreme accuracy and exacting finishes.
To request a free Trim-Lok catalog and order free product samples, please visit www.trimlok.com, or Trim-Lok, Inc. toll free at 888-TRIM-LOK (874-6565).