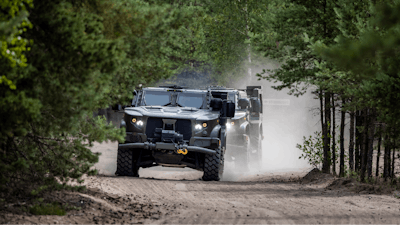 Oshkosh Defense
The U.S. Army Contracting Command – Detroit Arsenal (ACC-DTA) announced that it has awarded Oshkosh Defense, a wholly owned subsidiary of Oshkosh Corporation, a $591.6 Million order for 1,669 Joint Light Tactical Vehicles (JLTV), 868 companion trailers, and associated packaged and installed kits.
The order includes Oshkosh Defense JLTVs for the U.S. Army, U.S. Marine Corps, U.S. Air Force, and U.S. Navy. As part of the order, 125 vehicles will also be delivered to NATO and allied partners, including Brazil, Lithuania, Montenegro, and Slovenia.
Since winning the competitive JLTV contract in 2015, Oshkosh Defense has built over 14,000 JLTVs.
International momentum surrounding the Oshkosh Defense JLTV also continues to grow as customers seek a light tactical vehicle with lethal capabilities, fleet commonality attributes, and design flexibility.