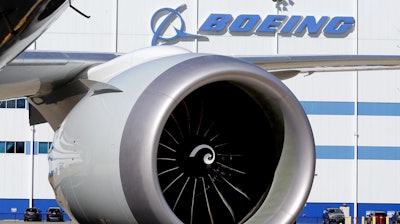 AP File
Boeing broke ground Thursday on construction of a new 370,000-square-foot maintenance, repair and overhaul (MRO) facility at Cecil Airport in Jacksonville, Florida.
The facility will include eight new hangars, additional work space and offices where Boeing maintenance staff, engineers and data analysts will support U.S. Navy and Air Force aircraft.
The facility's close proximity to Naval Air Station Jacksonville, Boeing's Training Systems Center of Excellence in west Jacksonville, and local academic institutions made it an ideal location for the development and delivery of product support, collaborative research and engineering, officials said.
The groundbreaking ceremony marked a 25-year lease agreement between Boeing and the Jacksonville Aviation Authority (JAA). Under the agreement, the JAA will construct and lease to Boeing new facilities on approximately 30 acres located on the northeast side of Cecil Airport, near Boeing's existing MRO site. Construction is anticipated to be completed in 2023.
Since opening its existing MRO facilities at Cecil Airport in 1999, Boeing has maintained, modified or upgraded 1,030 aircraft for the U.S. Navy and Marine Corps, including the F/A-18 A-D Hornet, F/A-18 E/F Super Hornet and EA-18G Growler.
The team at the site also converts F/A-18 Super Hornets into flight demonstration aircraft for the U.S. Navy's Blue Angel squadron, as well as modifies retired F-16s into the next generation of autonomous aerial targets for the U.S. Air Force. The facility is home to a Flight Control Repair Center that provides structural repairs to F/A-18 A-F and EA-18G flight control surfaces.