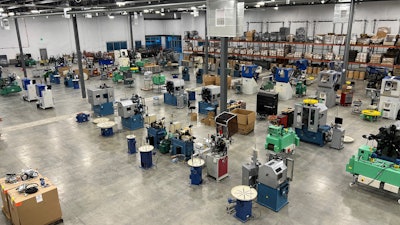 Newcomb Spring Corp
Alpharetta, Georgia-based Newcomb Spring Corp announced that its Colorado plant has moved to a new location in Denver, Colorado. Operations at the new facility began on Monday, October 4.
Investing in Square Footage, Equipment and Technology
The 41,600 square foot facility nearly doubles the plant's size, increasing its production capabilities, providing faster turnarounds, low costs and a more diverse array of manufacturing and secondary operations. The company leased the Denver property and has upgraded the building with an investment of over $800,000 to fit the needs of its modern manufacturing operations. A capital investment of $275,000 in additional CNC machinery allows for a substantial increase in capabilities and improved service.
With the significant upgrade in overall square footage, Newcomb of Colorado has also doubled the size of its inventory storage room for finished and raw materials, increasing fulfilment capabilities of customer-related blanket purchase orders or vendor managed inventory.
"We are thrilled to be operating in our new state-of-the-art facility. Newcomb has made a considerable investment in outfitting our Denver facility with improved design, infrastructure and equipment. The increased space in the facility allows us to create an equipment layout which improves the internal logistical function, increasing output, reducing tac time and enhancing our ability to effectively apply 5S principles within the plant," said Nathan Watson, General Manager, Newcomb Spring of Colorado.
New Contact Information
The plant is now located at 1210 E 73rd Avenue in Denver, CO. The new facility is in closer proximity to major trucking terminals and its convenient location at the intersection of several highways and connecting arteries allows Newcomb to reach vendors more quickly and efficiently, while providing customers across the metro area faster access to the plant. The facility's telephone number (303-450-2840) and email address remain the same.
"We look forward to being able to better serve our customers with a much larger and more modern manufacturing environment specifically designed for spring and metal forming operations," continued Watson.
About Newcomb Spring Corp
Newcomb Spring Corp is a worldwide supplier of compression springs, extension springs, torsion springs, wire forms, stampings, rings, hooks, battery contact springs, micro springs, magazine springs and wire bent parts. The company's products meet demands in a variety of industries, including aerospace, agricultural, automotive, computer, medical, military and telecommunications. Family-owned and operated, Newcomb Spring Corp is headquartered in Alpharetta, Georgia and offers additional facilities in California, Connecticut, Colorado, North Carolina, Tennessee, Texas and Ontario, Canada. Newcomb Spring operates with ISO 9001 certified quality systems and delivers a wide range of material capabilities in the manufacture of metal components––specializing in reliability, rapid response times and stringent quality control. Additional information is available at newcombspring.com.