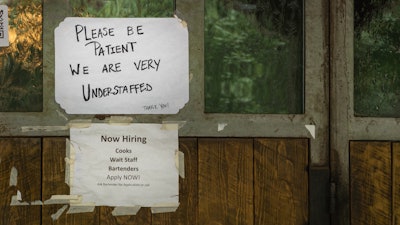 iStock
The presence of a robot acting as a server resulted in more significant tips for staff, according to a restaurant chain in Florida.
The New York Times reports that in July, Carlos Gazitua, the owner and CEO of Sergio's Restaurant, paid for Softbank's Servi robot at $1,000 a month for one of his restaurants.
The purchase came during a labor shortage, when the restaurant was in what Gazitua called a "crisis" point. To help fill in for the lack of employees, the Servi robot would carry food from the kitchen to customers.
Its laser-sensing technology and 3D cameras allows it to travel between tables. Gazitua claimed the robot created additional time for staff to talk to customers and serve more tables. As a result, patrons gave larger tips.
According to Business Insider, Sergio's now uses a robot at all six of its locations.
"This will create 25-30% percent more efficiency for our wait staff so they can focus more on our guests and in return make more money by taking more tables and/or creating a better hospitality experience," Gazitua said.
Other restaurants are following in Sergio's footsteps as former hospitality workers continue to pursue alternative careers. One example featured a Latin American restaurant in Texas that rented three robots capable of welcoming customers, carrying food to tables, and singing.