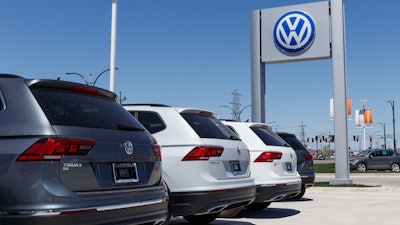 iStock
The CEO of Volkswagen reportedly informed a company supervisory board last month that a slow transition to electric vehicles could cost the automaker 30,000 jobs.
Two sources familiar with the situation told Reuters of Herbert Diess' claim. Diess also said that competition from rivals new to Germany, such as Tesla, should encourage Volkswagen to transition to electric vehicles more quickly.
Two spokespersons did not confirm if Diess warned of a reduction of 30,000 jobs. One acknowledged that Diess circled Tesla as a driving force in the company's transformation but said the executive made no specific calculations on the potential for lost jobs.
A separate spokesperson for Volkswagen's workers' council refused to comment on what Diess said and added, "A reduction of 30,000 jobs is absurd and baseless."
Tesla CEO Elon Musk said last week that he hopes that the company's first European factory outside Berlin will begin producing cars later this year. The American electric vehicle company plans to manufacture 500,000 cars per year with 12,000 employees in Germany. Volkswagen employs 25,000 workers to produce 700,000 cars at its Wolfsburg plant, which currently does not make electric vehicles.
One estimate predicts that electrification could result in the loss of 100,000 jobs in the German auto industry by 2025, since electric vehicles require fewer parts than cars with internal combustion engines.